Show Your Support: This site is primarily supported by advertisements. Ads are what have allowed this site to be maintained on a daily basis for the past 18+ years. We do our best to ensure only clean, relevant ads are shown, when any nasty ads are detected, we work to remove them ASAP. If you would like to view the site without ads while still supporting our work, please consider our ad-free Phoronix Premium.
Canonical Publishes ATI Catalyst 8.10 Beta
X Server 1.5 was officially released last month with X.Org 7.4, but there had been server pre-releases going back to earlier this year. Fedora 9 had even shipped with an early version version of X Server 1.5. For those using the open-source X.Org drivers, running the latest server is not a big deal, but those with ATI or NVIDIA binary drivers they sometimes can be slow in supporting the latest version. NVIDIA has supported X Server 1.5 for a number of weeks now, but ATI has yet to update their Catalyst Linux driver with such support. With Ubuntu 8.10 being released in two weeks and it's using this newest X Server, how will ATI graphics cards be supported? Well, an interesting event has occurred and we will tell you what has happened in this article.
With no public release of the Catalyst Linux driver supporting X Server 1.5, any user trying to load the driver will run into show-stopping problems due to the ABI breaking. Simply put, the Catalyst driver will not work with any distribution using this new version. In the meantime, users are forced to use the xf86-video-ati or xf86-video-radeonhd drivers or even the VESA driver if one of these two open-source ATI drivers fail. With the open-source ATI drivers you will also be without any 2D, 3D, or video acceleration at this time if using an ATI R600/700 graphics processor (Radeon HD 2000 series and later).
Users of Fedora 9 have been left in the dark from AMD since earlier this year without any Catalyst support. There has been some fallout from this in the Phoronix Forums and elsewhere, but evidently, AMD is not prepared to lose all of its Ubuntu users once the Intrepid Ibex is released. We have yet to even publicly see a Catalyst 8.10 release this month, but uploaded to Ubuntu's package repository last night was a new ATI driver release. Canonical's Bryce Harrington had committed a new upstream release of the fglrx driver that is version 8.54.3. The OpenGL version is 2.1.8087. This release does contain X Server 1.5 support and works with the Linux 2.6.27 kernel.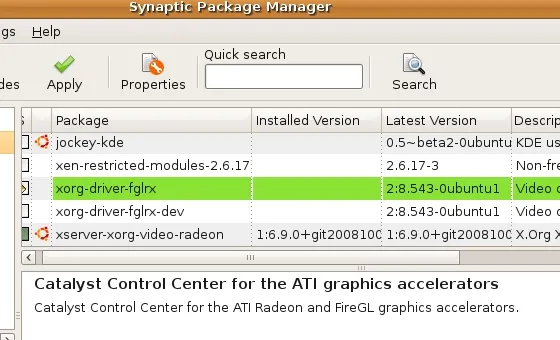 The ATI Linux packaging scripts for this driver are housed at Phorogit (Phorogit is also owned by Phoronix Media, the Phoronix.com parent company). Judging from some of the commits, the existence of an 8.54 driver is confirmed and with that, there is now an x740 directory. This directory likely contains the X.Org 7.4 version. The the packaging scripts alone are of no use without an updated driver from AMD.
How did Canonical receive this 8.54 driver and permission to upload it early into Ubuntu 8.10? It should not be surprising to assume that Canonical communicates with AMD and participates in their beta driver testing program, and that considering Ubuntu's market-share, they must have allowed them to use this early driver release. AMD though has not commented on the matter. We have fired up the latest Ubuntu 8.10 development release to try out this public 8.54.3 driver and it does indeed work.
Whatever the official case is, Canonical is now providing an ATI Linux driver that isn't yet available to ATI's customers through their driver web-site. This driver is part of the fglrx 8.54 release stream, which makes it part of what should be Catalyst 8.10. Considering this is a beta driver, don't be surprised if there are a few bugs in this initial X Server 1.5 support or fallout elsewhere. At least ATI card owners will now be able to use Ubuntu 8.10 with a working graphics driver. With this release now out there, we will continue our exploration of this new driver. Expect more information soon.
If you enjoyed this article consider joining Phoronix Premium to view this site ad-free, multi-page articles on a single page, and other benefits. PayPal or Stripe tips are also graciously accepted. Thanks for your support.