Gaming With The Open-Source R500 Driver
From the release of Mesa 7.1 Release Candidate 1 to Multi-Pointer X being merged to master to the R500 3D milestone, it's been an exciting past 24 hours for the X.Org community. With the open-source 3D support for the Radeon X1000 "R500" GPUs now reaching a parity with the Mesa support for earlier ATI Radeon product families, more Linux users can now consider turning to an open-source driver (xf86-video-ati or xf86-video-radeonhd) for their video driver needs. In this article we are looking at what Linux games work thanks to this latest Mesa R500 support.
Just a bit more than two months ago, the first 3D milestone of hardware-accelerated glxgears for the Radeon X1000 series enthralled us. While we were excited for this accomplishment, most desktop Linux users are just interested in seeing their games and applications work but could care less about the glxgears milestone. Now with this most recent driver work, there is something to be especially proud of and of interest to the wider Linux population. Compiz is now working successfully on the R500 hardware with the latest Mesa code as well as many games. The games we have tested so far include OpenArena, Nexuiz, Warsow, Enemy Territory, Doom 3, and Unreal Tournament 2004.
When testing out these open and closed source games, we had used the latest DRM, Mesa, and xf86-video-ati git code as of 1:00PM PST on May 27, 2008. The PCI Express graphics card used in conjunction was an ATI Radeon HD 1800XT 256MB (R520).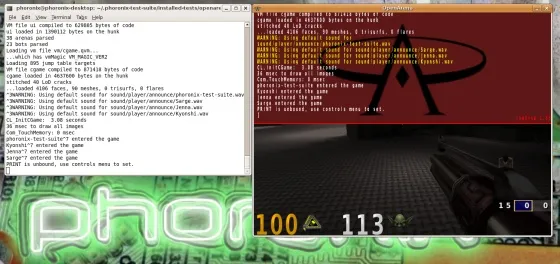 With the OpenArena game, which uses the ioquake3 engine, we had experienced some success. The game had successfully started up and we were able to play the game initially as well as run a timed demo, but after a while, the frame-rate would drop substantially and render the game inoperable. This is likely due to a video memory (GART) issue. In a similar situation to OpenArena, Nexuiz would initially run very well but eventually would halt.
While OpenArena wasn't entirely successful, Warsow on the other hand had worked quite well. With the git code and the Radeon X1800XT graphics card, we had experienced no frame-rate issues with the rendering being smooth nor had we run into any texture rendering glitches. Warsow is based upon the QFusion engine, which in turn is based upon the open-source Quake 2 engine but with advanced modifications such as per pixel shading support, soft shadows, curved collision detection, stencil shadows, and volumetric fog. If Warsow is the leading game you are after, you more than likely can get by with the current open-source R500 driver.
Turning to the still-popular Enemy Territory, this game too had worked out surprisingly well. The performance was admirable, but the experience was not perfect. The textures for the plants and trees weren't rendering correctly. Aside from that, this Quake3-based game had worked.