Radeon HD 4550 Not Yet Open-Source Friendly
Last month we had looked at the ATI Radeon HD 4670 under Linux. This graphics card had worked just fine with the Catalyst Linux Suite, but when using either of the two open-source ATI drivers there were problems with the DVI connectors. While using an analog VGA connector works if you are just after mode-setting support, the R600/700 GPUs still lack 2D, 3D, and video acceleration using any non-Catalyst driver. Sapphire Technology though has sent out an ATI Radeon HD 4550 512MB GPU to see whether this sub-$50 USD graphics card plays nicely with the xf86-video-ati or xf86-video-radeonhd drivers.
The ATI Radeon HD 4550 is built on a 55nm fabrication process like the other Radeon HD 4000 series graphics cards, features 80 stream processing units, a 600MHz RV710 core, and 512MB of 900MHz DDR3 memory. This graphics card also supports PCI Express 2.0, OpenGL 2.0, ATI Avivo HD / Unified Video Decoder 2, PowerPlay, and even CrossFireX. The Radeon HD 4550 is considered an entry-level graphics card and it retails for at or below $50 USD.
When it comes to using the binary driver, it will "just work" with the Radeon HD 4550. We had used Catalyst 8.9 for our initial testing and we had experienced no problems when it came to supporting this RV710 graphics card.
Like the Radeon HD 4670, both of the open-source ATI drivers will immediately fail when using the Radeon HD 4550. We were using the git code for the xf86-video-ati and xf86-video-radeonhd drivers as of October 14 for these tests and then added in the HD 4550 PCI ID (0x9540). Using the driver we had experienced a blank but initialized screen while with the RadeonHD driver we experienced driver errors. After emitting several driver errors from rhdAtomInterpretObjectID, rhdAtomGetDDCIndex, and rhdAtomOutputDeviceListFromObjectHeader, the attached LCD panel was not recognized using the DVI connector. Proceeding to move to the analog VGA connector with the monitor had, however, fixed things for xf86-video-ati. You still lack video, 2D, and 3D acceleration with the open-source drivers, but when using an analog connection on the RV710 you will at least get a picture.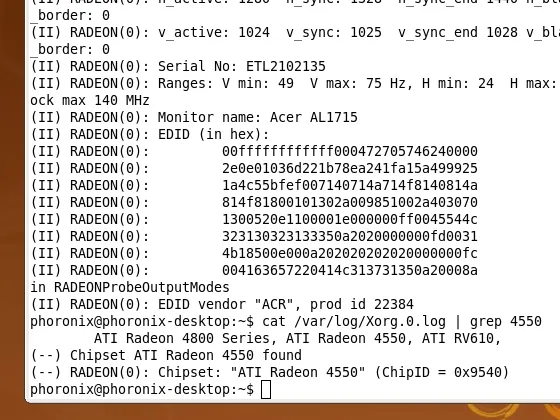 All parties involved with the xf86-video-ati and xf86-video-radeonhd drivers are aware of these problems. Sadly, they have not yet received the Radeon HD 4500 series hardware or any pre-production hardware. AMD's Alex Deucher had mentioned the digital interface is now different with these newer graphics cards and to support it the drivers need to use some new AtomBIOS calls. The work for this hasn't been started yet, but Deucher describes the needed changes as being minor. When the open-source status improves, we will be sure to let you know. In the coming days we will also be delivering our review of the Sapphire Radeon HD 4550 512MB graphics card with the Catalyst driver.
If you enjoyed this article consider joining Phoronix Premium to view this site ad-free, multi-page articles on a single page, and other benefits. PayPal or Stripe tips are also graciously accepted. Thanks for your support.