Show Your Support: Did you know that you can get Phoronix Premium for under $4 per month? Try it today to view our site ad-free, multi-page articles on a single page, and more while the proceeds allow us to write more Linux hardware reviews. At the very least, please disable your ad-blocker.
AMD Ups The Workstation Ante With A New FirePro Driver
Whether you are an owner of an ATI FirePro V3800 that retails for just over $100 USD, the proud owner of an ATI FirePro V8800 that goes for over $1,300 USD, or any of the FirePro products in-between, you will want to update your graphics driver when AMD puts out their next stable software update. Back in March AMD put out an amazing FirePro Linux driver that increased the performance of their workstation graphics cards already on the market (and the other Evergreen-based workstation cards that entered the market soon after) by an astonishing amount. Our independent tests of this proprietary Linux driver update found that the performance in some workstation applications had increased by up to 59% by simply installing this updated driver while other OpenGL tests had just improved rather modestly with 20%+ gains. AMD though is preparing to release another driver update for Microsoft Windows and Linux that ups their workstation graphics performance even more! We have run some tests of this new beta driver against their older driver with both their low-end and ultra-high-end FirePro products and have found the improvements again to be astonishing.
On Monday there was a new beta driver from Advanced Micro Devices that they released for Windows and it was tagged the 8.76.2 beta. While on the Windows consumer side they were focusing on OpenGL ES 2.0 support, on the workstation side they have been further optimizing their OpenGL stack. AMD's press department had told us that this updated driver provided a "More than 50% increase in performance for ATI FirePro V8800 on the 3ds Max subset of the SPECviewperf 10 benchmark, as well as a 40% gain on the Catia subset, a 20% gain on the Pro E subset and more than 20% gain on the overall composite." AMD also advertised a 62% performance gain for the V3800 and an 81% performance gain for the V8800 in other benchmarks when comparing the fglrx 8.76.2 beta to their previous driver.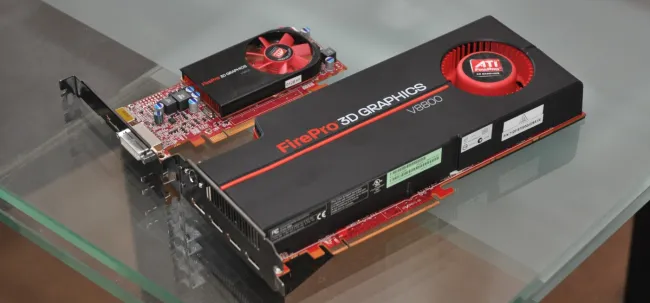 AMD's announcement on Monday was targeting their Windows workstation customers and had only made available publicly a Windows 8.76.2 beta driver, but we decided to test these claims on the Linux side. Using an AMD press Linux driver labeled fglrx 8.72.11 and an OpenGL version string of 4.0.10143 we compared the performance of this new driver compared to their earlier driver from just a couple months ago that already added their first set of major workstation optimizations for the FirePro family. The earlier driver was fglrx 8.72.11 with an OpenGL version string of 3.2.9756, which is what is available within the Lucid restricted repository of Ubuntu 10.04 LTS and equivalent to about the Catalyst 10.4 driver release from April.
We have reviewed AMD's entire FirePro family under Linux -- the V3800, V4800, V5800, V7800, V8700, V8750, and V8800. In this article we decided to test AMD's lowest-end FirePro graphics card, the FirePro V3800, and their highest-end ASIC, the FirePro V8800. For those not up to speed on the latest-generation hardware, the FirePro V3800 is based upon the ATI Redwood Pro GPU (found in the consumer Radeon HD 5570) and has 400 Stream processors while its core is clocked at 650MHz and the DDR3 memory is at 900MHz. The Evergreen-based FirePro V8800 has a core clock of 825MHz while it has 2GB of GDDR5 memory clocked at 1150MHz and this graphics card has four times as many Stream processors. Additional details can be found in our Linux reviews (linked above) of these professional graphics cards.
The FirePro V3800 and V8800 were once again ran in our dual AMD Opteron 2384 "Shanghai" Quad-core setup (eight total cores) with a Tyan S2932 motherboard, 4GB of system memory, a 160GB Western Digital WD1600YS-01S SATA HDD, and a Dell P2210H DisplayPort monitor. On the software side was Ubuntu 10.04 LTS with the Linux 2.6.32 kernel, GNOME 2.30 desktop, X.Org Server 1.7.6, and an EXT4 file-system. Our tests largely focused on SPECViewPerf 10 while we also added Lightsmark and Unigine Heaven to represent some other more general OpenGL performance. Testing was, of course, facilitated by the Phoronix Test Suite.