AMD Threadripper 2990WX Linux Benchmarks: The 32-Core / 64-Thread Beast
Whether you are compiling a lot of code, rendering models with Blender, or running various scientific workloads with OpenMP or MPI, the AMD Threadripper 2990WX is capable of delivering immersive Linux performance with its 32-cores and 64 total threads. While coming in at $1800 USD, the AMD Threadripper 2990WX can deliver better performance than the more expensive Intel Core i9 7980XE. Beyond being mesmerized about the performance today with this high-end desktop/workstation processor with the many thread-happy Linux workloads we encounter daily, this 32-core Zen+ processor has us even more eager to see AMD's next-generation Zen2-based EPYC CPUs next year.
The embargo has now expired for sharing the performance benchmarks on the AMD Threadripper 2 processors. There is the just-posted AMD Threadripper 2950X Linux benchmarks while in this article is our complete look at the 2990WX as well as the 2950X figures compared to an assortment of Intel's CPU competition. There will also be more tests in the days ahead including looking at these CPUs for Linux gaming, comparing various heatsinks and water coolers with this 2990WX, BSD vs. Linux benchmarks, Linux scaling in various workloads against increasing thread counts, some Windows 10 vs. Linux comparison tests, and much more. This 32-core / 64-thread processor will certainly be a lot of fun for running through some fresh tests of a variety of Linux workloads and areas of interest. The results today are the initial tests I was able to get done over benchmarking the 2950X and 2990WX consistently over the past week and a half.
As covered last week when introducing Threadripper 2 following the "unboxing" embargo, the Threadripper 2990WX sports 32-cores and 64-threads with a 3.0GHz base frequency and 4.2GHz boost frequency. This is a big step up over the original Threadripper 1950X flagship HEDT CPU from last year or even the 2950X, but with double the cores/threads, the retail price on this CPU comes in at $1799.
The AMD Threadripper 2990WX carries a total of 16MB of L2 cache and 64MB of L3 cache. With Threadripper 2 there is quad-channel DDR4-2933 support compared to DDR4-2666 with Threadripper1 or Intel's current Core i9 offerings. With Threadripper 2 being based upon AMD's Zen+ technology, there are significant improvements to the cache and memory latencies over Threadripper 1. Like the Threadripper 2950X and other Threadripper parts, the 2990WX provides 64 PCI Express lanes. With the 2990WX there are approximately 19.2 billion transistors on this CPU. This 32-core / 64-thread CPU has a rated TDP of 250 Watts.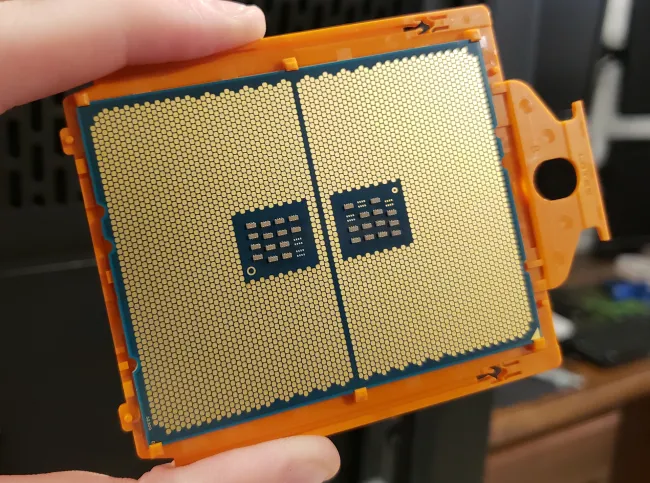 For reference Intel's current high-end desktop CPU, the Core i9 7980XE Extreme Edition, is 18 cores / 36 threads with a 2.6GHz base frequency and 4.2GHz maximum turbo frequency or 4.4GHz TBM3.0 frequency. That CPU has a 165 Watt TDP, 24.75MB of L3 cache, quad-channel DDR4-2666 support, and AVX-512. With pressure from AMD's Threadripper 2 line-up, it's certainly time for Intel to introduce their next-generation processors albeit still based on the 14nm process.
This is a long article given all the interesting tests, but as always, if you are a Phoronix Premium member you get access to the articles ad-free and multi-page articles all on a single page, among other benefits. Thanks for your support.