Show Your Support: Have you heard of Phoronix Premium? It's what complements advertisements on this site for our premium ad-free service. For less than $4 USD per month, you can help support our site while the funds generated allow us to keep doing Linux hardware reviews, performance benchmarking, maintain our community forums, and much more.
Nouveau: Where It Stands Today
The last time we had written an article on Nouveau, the community project working on developing an open-source 3D display driver for NVIDIA hardware, was this past January after being enlightened by glxgears finally being able to run on NVIDIA's NV4x GPUs. Since then many developments have occurred with this open-source NVIDIA driver as we have covered in several news postings. In this article today we will share with you where the Nouveau project stands today from a user perspective as well as testing out the driver on a few more NVIDIA systems.
Since last providing an article on the status of the Nouveau driver, there have been several interesting developments. There has been quite a bit of work underway in supporting RandR 1.2 in Nouveau, work to port the Nouveau driver to *BSD, Xv support and S3TC texture compression being worked on through "Vacation of Code" (since Google hadn't granted them any spots in the "Summer of Code" program), and a mess in getting their $10,000 from the pledge drive due to tax reasons. The Nouveau development mailing list has also opened up. Introduced recently has also been the Nouveau crashdump and createdump scripts for automating some additional processes. Finally, work is underway on support for reverse-engineering the GeForce 8 graphics cards with 2D functionality already in existence thanks to the NVIDIA-supported 2D "nv" driver.
One of the first distributions to package the Nouveau driver has been the Fedora Project. Included with Fedora 7 is the Nouveau display driver, however, due to the experimental status of this driver it is not enabled by default. For NVIDIA graphics cards, Fedora 7 defaults to the "nv" driver, but by running yum install xorg-x11-drv-nouveau and then enabling "nouveau" in your xorg.conf, you can easily install this open-source driver in a matter of minutes. For our purposes in this article, we had installed the Nouveau driver out of the Fedora development branch on Fedora 7. The version we had installed was xorg-x11-drv-nouveau.i386 v2.1.0-1.fc8.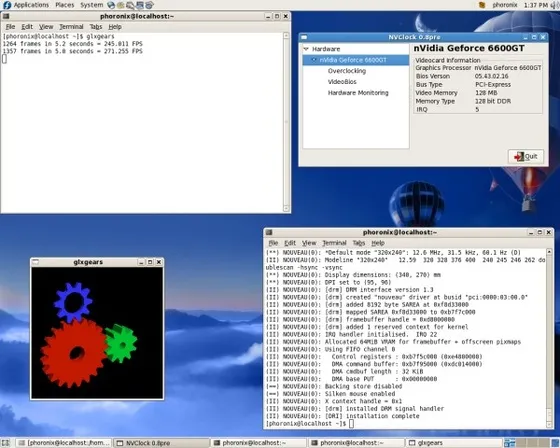 Using a GeForce 6600GT 128MB graphics card with Nouveau on Fedora 7 had proved to be a success. We had no problems with the driver or running glxgears and everything was running smoothly. We had also loaded up the modified version of NVClock onto this setup, which is capable of writing to all NVIDIA registers.
When it came to using a NVIDIA GeForce 6150 with Nouveau, it had problems running above an 800 x 600 resolution. We had used the 1280 x 1024 LCD with other Nouveau setups in the past, but this GPU was not able to operate at anything higher than 800 x 600 even after manually specifying the higher modes.
Heavy work is under way with the Nouveau driver for GeForce 8 support, but the Fedora 7 driver we were using had not detected the NVIDIA GeForce 8500GT 256MB (0x0421). The "nv" driver, however, had worked fine with 2D acceleration.
The Nouveau driver is making some terrific progress and we look forward to seeing what all can be accomplished by the end of this year. Based upon other tests we had carried out, most graphics cards in the GeForce FX, 6, or 7 series should be able to start with Nouveau, but there may be some caveats such as the resolution bug we had run into. The driver still isn't ready for prime-time, but it's crawling closer. We'll be back shortly with additional findings and you can share your experiences with Nouveau in the Phoronix Forums.
If you enjoyed this article consider joining Phoronix Premium to view this site ad-free, multi-page articles on a single page, and other benefits. PayPal or Stripe tips are also graciously accepted. Thanks for your support.