We Rely On Your Support: Did you know that you can get Phoronix Premium for under $3 per month? Try it today to view our site

ad-free, multi-page articles on a single page, and more

while the proceeds allow us to write more Linux hardware reviews.
NVIDIA GeForce GTX 750 Ti "Maxwell": A Great Mid-Range GPU For Linux Users
Some of the other specs on the 28nm-manufactured GM107 for the NVIDIA GeForce GTX 750 Ti 2GB include five streaming multi-processors, 640 CUDA cores, 40 texture units, 16 ROP units, 2MB L2 cache size, 86.4 GB/s memory bandwidth, 40.8 GigaTexels/sec texture fill rate, and there's 1.87 billion transistors. The GeForce GTX 750 (non-Ti) is packing four streaming multi-processors, 512 CUDA cores, 32 texture units, 16 ROP units, 1GB of GDDR5 video memory, 80GB/s memory bandwidth, and 32.6 GigaTexels/sec texture fill rate. The core clock speeds of the GTX 750 non-Ti are the same at 1020MHz with 1085MHz Boost Clock, but the GDDR5 video memory drops from 5400MHz to 5000MHz.
The GeForce GTX 750 Ti we were supplied with had two DVI ports and one mini HDMI slot.
For using this first Maxwell graphics card a 300-Watt power supply is recommended while the TDP of the graphics card is 60 Watts (or 55 Watts on the non-Ti version). With being below 75 Watts, no 6-pin PCI Express power connector is required. The thermal threshold for the GM107 GPU is 95 Celsius.
With Maxwell being very power efficient, cooling the GeForce GTX 750 Ti is just a very petite heatsink fan. This aluminum heatsink did its job fine and there are thermal results that will be shared later in this Phoronix article.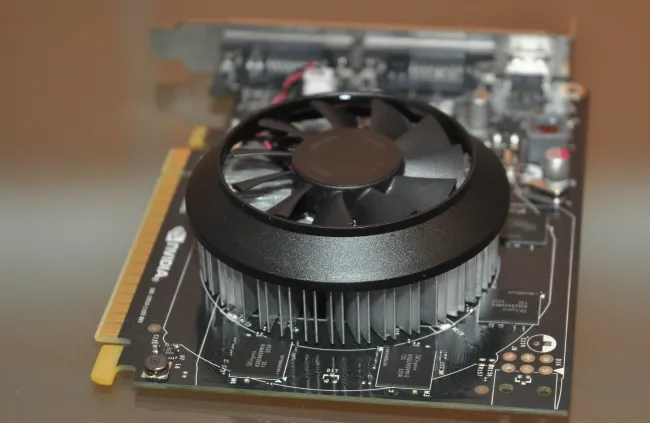 The video memory on the GTX 750 Ti was from Hynix and was marked part H5GC4H24MFR-T2C.