We Rely On Your Support: Did you know that the hundreds of articles written on Phoronix each month are mostly authored by one individual working insane hours? Phoronix.com doesn't have a whole news room with unlimited resources and relies upon people reading our content without blocking ads and alternatively by people subscribing to Phoronix Premium for our ad-free service with other extra features. You can also consider a tip via PayPal.
NVIDIA GeForce GTX 970 Offers Great Linux Performance
Since last month's Linux review of the GeForce GTX 980 as NVIDIA's newest high-end GPU powered by their Maxwell architecture, many Phoronix readers have been requesting Ubuntu Linux tests of the GTX 970 too. I've now got my hands on an EVGA GeForce GTX 970 and am putting it through its paces today.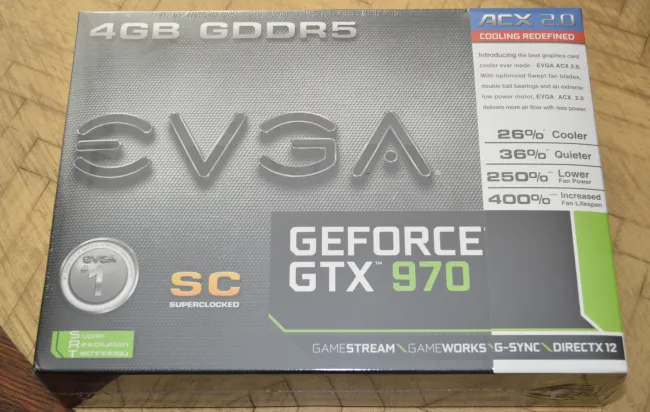 The graphics card being reviewed today is the EVGA GeForce GTX 970 Superclocked 4GB (04G-2974-KR). The $340 USD graphics card has 1664 CUDA cores, 4GB of 256-bit GDDR5 memory, 1165MHz core clock speed, 1317MHz Boost clock speed, and 7010Mz memory clock speed. The GTX 970 has 1664 CUDA cores compared to 2048 with the GTX 980, the GTX 970 has 104 texture units rather than 128, the 1050MHz vs. 1126MHz core clock difference, and 1178 vs. 1216MHz Boost clock difference. Due to trimming the GM204 Maxwell GPU back to form the GTX 970, the TDP of the graphics card is just 145 Watts compared to 165 Watts with its bigger brother. While the specifications are only slightly reduced compared to the GTX 980, the launch price is $330+ while the GTX 980 is up at $550+.
AMD's current competition for the GeForce GTX 970 come down to the Radeon R9 290 (at the time of writing the R9 290 can be found for around $300) or the R9 285 that comes in at under $300. As NVIDIA's ending the GTX 770/780 series, the GTX 970 fits in between the GTX 760 and then the GTX 980.
Today with the EVGA 04G-2974-KR testing is our first look (or rather the first major look anywhere) of the GeForce GTX 970 running under Linux with OpenGL and OpenCL workloads. Let's continue.