Show Your Support: This site is primarily supported by advertisements. Ads are what have allowed this site to be maintained on a daily basis for the past 19+ years. We do our best to ensure only clean, relevant ads are shown, when any nasty ads are detected, we work to remove them ASAP. If you would like to view the site without ads while still supporting our work, please consider our ad-free Phoronix Premium.
AMD Ryzen 7 7700X vs. Core i9 11900K AVX-512 Performance Analysis
While initially leary of AMD Zen 4's "double pumped" approach for supporting AVX-512 using a 256-bit data path, it's proven to be very efficient for performance and yield great results without negative clock impairments or wreaking havoc on the power consumption. Back in September I delivered a detailed AVX-512 performance analysis on the Ryzen 9 7950X while in this article is a detailed benchmark look at the Core i9 11900K against the Ryzen 7 7700X. The Core i9 11900K being the currently last Intel desktop CPU officially supporting AVX-512 while the Ryzen 7 7700X was used for matching the core/thread count of that Rocket Lake processor for this AVX-512 on/off comparison.
Although early Alder Lake processors allowed AVX-512 if disabling the E cores, system BIOS updates disabled that ability and was also fused off in later Alder Lake (and now Raptor Lake) processors. So for comparing the Intel vs. AMD AVX-512 performance on the desktop side, it means going back to the Core i9 11900K "Rocket Lake" processor with its official AVX-512 support. The Core i9 11900K as a reminder is an 8 core / 16 thread processor with a 3.5GHz base frequency and 5.3GHz maximum turbo frequency while having an advertised 125 Watt TDP.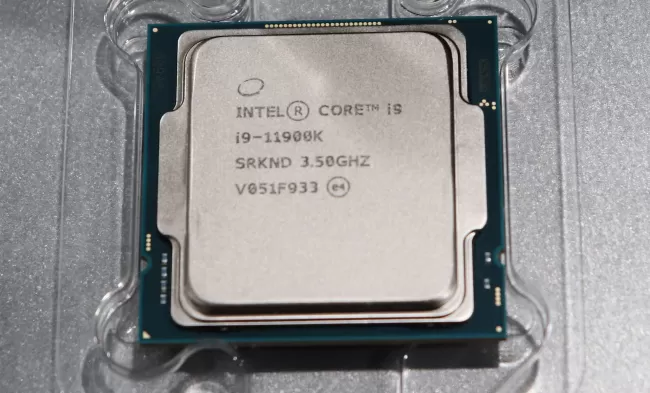 For going with 8 cores / 16 threads on the AMD side, the Ryzen 7 7700X was used while it has a 4.5GHz base frequency and a maximum boost clock speed of 5.4GHz and having a 105 Watt default TDP.
At least with the AMD X670 motherboards I have tested so far there hasn't been the ability to disable AVX-512 from within the BIOS. So for this on/off comparison on both systems I used "clearcpuid=304" so the Linux kernel won't advertise the AVX-512 extensions for the applications checking AVX-512 presence via /proc/cpuinfo and also prevents kernel use of AVX-512 instructions. And then for all of the open-source benchmarks, they were rebuilt with "-mno-avx512f" for disabling AVX-512 instructions compared to the native builds with AVX-512 enabled.
Both the Intel Rocket Lake and AMD Zen 4 systems were similarly configured and tested using Ubuntu 22.10 with the Linux 5.19 kernel. Various AVX-512 capable benchmarks were tested and then re-tested with the AVX-512 support disabled. During the testing the CPU core power consumption was monitored using the exposed RAPL interfaces as well as monitoring the peak CPU frequency obtained as the highest clock frequency found every second on any of the cores.
Here's a look at the AVX-512 Intel vs. AMD Linux performance on the desktop side. And as a friendly reminder... If you enjoy all the Linux hardware testing, open-source news, etc, that I do daily on Phoronix please consider joining Phoronix Premium to help show your support. The ad industry and rampant ad-block usage has been rather brutal lately... Phoronix Premium gets you the site ad-free and multi-page articles on a single page.