Show Your Support: Have you heard of Phoronix Premium? It's what complements advertisements on this site for our premium ad-free service. For less than $4 USD per month, you can help support our site while the funds generated allow us to keep doing Linux hardware reviews, performance benchmarking, maintain our community forums, and much more.
Intel X.Org Driver Explodes Thanks To Chris Wilson
Chris Wilson is now in effective control of the xf86-video-intel open-source graphics driver with being responsible for nearly all of its development activity. Plus there's some other interesting statistics to share.
After providing recent GitStats on
Wayland
,
the X.Org Server
, and
Mesa
, it's time to begin providing some new numbers on the prominent DDX graphics drivers for X.Org. First up is Intel.
The Intel driver in its mainline Git repository is now up to 500 files that amount to 204,355 lines of code. There's been 5,531 commits since November of 2003 and contributions made from 135 developers.

When looking at the commits since November 2003, development on this open-source Intel X.Org driver really picked up in 2006, has had high points several times over the years, and then since late 2011 and into early 2012 there's been a surprising explosion of commits... This is a bit odd when considering most X.Org development is generally pacing lower than in the past as more activity turns to working on the DRM/KMS drivers, support for Wayland, and other non-DDX driver activity. But why xf86-video-intel is ticking up recently is explainable, thanks to Chris Wilson and his
SNA
pet project.
In 2012 there have already been 1,163 commits -- more than any other year! And we're only seven months into the year right now and have already passed the 974 commits made in 2011, which was previously the best year for the Intel driver's development. In 2010 there were 520 commits and in 2009 there was 586 commits.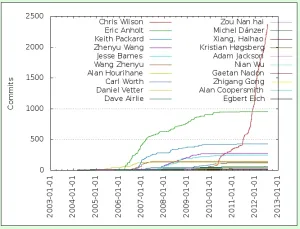 Since 2003, the leading xf86-video-intel code developer is Chris Wilson with 2,373 commits, which amounts to 42% of all commits ever made to this driver. This is fairly impressive since Chris only began work on the driver in mid-2009. Other top contributors include Eric Anholt at 957 commits and then Keith Packard at 430 commits. In 4th place is Zhenyu Wang at 277 commits and then Jesse Barnes at 248 commits.
Since last year, the number of lines of code that Chris Wilson has added has exploded past all of the other xf86-video-intel contributors.
The number of lines of code added to this DDX driver have been on a steady rise since last year.
Chris Wilson has led in the number of xf86-video-intel commits every month since May of 2010.
Nearly all of Chris Wilson's work since last year to xf86-video-intel has been about working on his
Sandy Bridge New Acceleration
architecture for accelerating 2D. The SNA 2D acceleration architecture works for all supported generations of Intel graphics, contrary to its name. SNA generally
performs extremely well
and superior to that of UXA, the standard Intel means of Intel 2D acceleration. SNA isn't yet the default within the xf86-video-intel driver, but with the most recent driver release
it can now be easily enabled at run-time
. But as you can see from this Git activity, making the Intel SNA acceleration so speedy didn't come without a substantial amount of work.
Aside from Chris advancing SNA, there really isn't much going on in the xf86-video-intel world with most of the interesting work being within their DRM/KMS driver or the contributions that Intel is making to Wayland/Weston and Mesa.