AMD Ryzen 3 2200G + Ryzen 5 2400G Linux CPU Performance, 21-Way Intel/AMD Comparison
Yesterday I posted some initial Linux benchmarks of the Ryzen 5 2400G Raven Ridge APU when looking at the Vega 11 graphics, but for those curious about the CPU performance potential of the Ryzen 5 2400G and its ~$100 Ryzen 3 2200G sibling, here are our first CPU benchmarks of these long-awaited AMD APUs. These two current Raven Ridge desktop APUs are compared to a total of 21 different Intel and AMD processors dating back to older Kaveri APUs and FX CPUs and Ivy Bridge on the Intel side.
This 21-way system/processor comparison of the newest and older AMD and Intel APU/CPUs was done while running Ubuntu 17.10 x86_64 with the Linux 4.15.2 stable kernel. With all of these processor tests from Linux 4.15 yields mitigation for Spectre and Meltdown vulnerabilities with full Retpoline protection as well as __user pointer sanitization for Variant One and then KPTI on the Intel CPUs for Meltdown. Thus it's looking at the patched performance for this wide assortment of hardware being tested on this current Ubuntu release.
The tested hardware for this Linux CPU/APU comparison included:
- A10-7800
- A10-7870K
- FX-8350
- Ryzen 3 1200
- Ryzen 3 1300X
- Ryzen 3 2200G
- Ryzen 5 2400G
- Ryzen 7 1700
- Ryzen 7 1800X
- Core i3 4130
- Core i3 7100
- Core i3 8100
- Core i5 3470
- Core i5 4670
- Core i5 6500
- Core i5 6600K
- Core i5 7600K
- Core i5 8400
- Core i7 4770K
- Core i7 7740X
- Core i7 8700K
Coming up later today will be back to graphics testing with the initial results to report from the Ryzen 3 2200G for Vulkan/OpenGL performance and various other AMD Raven Ridge tests on multiple Linux distributions over the days ahead.
The Ryzen 3 2200G as a refresher has Vega 8 graphics (512 SPs) while it's a quad-core part without SMT, 3.5GHz base frequency, and 3.7GHz turbo frequency. The Ryzen 5 2400G with its Vega 11 graphics (704 SPs) is quad-core with SMT and has a 3.6GHz base frequency with 3.9GHz turbo. Common to both these Ryzen 2000 series APUs is the 65 Watt base TDP, a configurable TDP of 45 to 65 Watts (that will be tested in a follow-up article), 512KB L2 cache per core, 4MB L3 cache, and dual-channel DDR4-2933 support.
The Ryzen 3 2200G is supposed to retail for about $99 USD while the Ryzen 5 2400G is about $169 USD. However, both of these APUs now seem in short supply at least with current US Internet retailers today. I bought the Ryzen 3 2200G on launch day for the $99 price while the Ryzen 5 2400G cost me $189 and as of today at NewEgg is also still selling at this elevated rate while it's also selling the Ryzen 3 2200G for $129, quite a mark-up compared to $99.
Both retail APUs come with an AMD Wraith Stealth cooler that should be more than sufficient for these 65 Watt APUs.
I've only been testing these retail APUs since yesterday when receiving them as I hadn't received any review samples in advance, but so far from the CPU side they have been working fine with Ubuntu 17.10 on Linux 4.15. While there are the Vega graphics woes noted in yesterday's article, when it comes to the general processor functionality and stability I have yet to hit any problems with both of these processors now being under full load with benchmarks for the past 24 hours.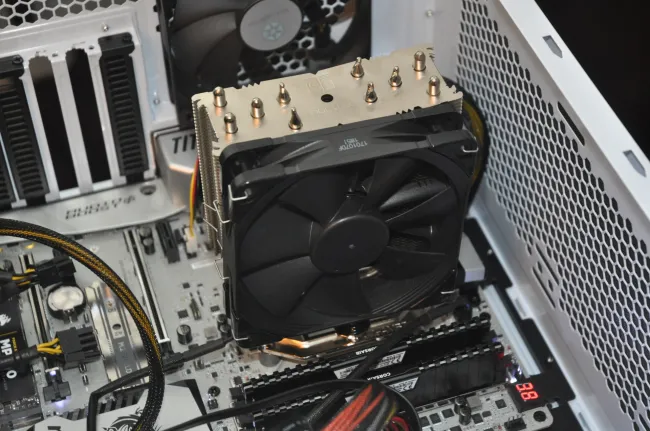 This initial Raven testing has been with an MSI X370 XPOWER GAMING TITANIUM motherboard and using the 1.C0 updated BIOS. The system had 2 x 8GB of DDR4-2933 Corsair memory, 525GB Crucial SATA 3.0 SSD, and the Vega graphics for this initial round of testing. All processors were tested at the stock frequencies and with system memory running at the maximum number of supported memory channels at the rated frequencies of the CPU/APU.
Due to the short time with the hardware so far, this article just contains the general processor performance followed by some performance-per-Watt figures. In the days ahead on Phoronix will be plenty more Raven Ridge tests looking at the other areas of these 2000 series APUs. Stay tuned and consider showing your support for our Linux hardware reviews by joining Phoronix Premium. All of this Linux CPU benchmarking is made possible via the Phoronix Test Suite.