The Tour Of Linus Torvalds' Home Office
Seemingly popular on the Internet today is the Linux Foundation produced video that shows off the home office of Linus Torvalds.
Many Phoronix readers have written in about this LF video that's looking at the home offices of 30 kernel developers in 30 weeks. This week, Torvalds' office in his Oregon home is featured. Linus now uses a stand-up desk with treadmill underneath, his former desk is rather cluttered and has a MakerBot along with his scuba equipment, etc. There's only a few computers in his office.
Featured already were Greg KH and Steve Rostedt office setups:
As a Phoronix reader and Linux enthusiast, do you have an awesome office setup? Share with us your pictures (or videos) by commenting on this article in our forums. Below are some of my former office setup pictures from a few weeks ago. But at the start of July I moved and still in the process of remodeling my new office, which in the end is about four times larger and will be much more interesting once fully complete with the new benchmarking test farm... Still a few weeks out from having the new office and server farm complete so that I'm fully back up to speed on Phoronix /
Phoronix Test Suite
/
OpenBenchmarking.org
activities...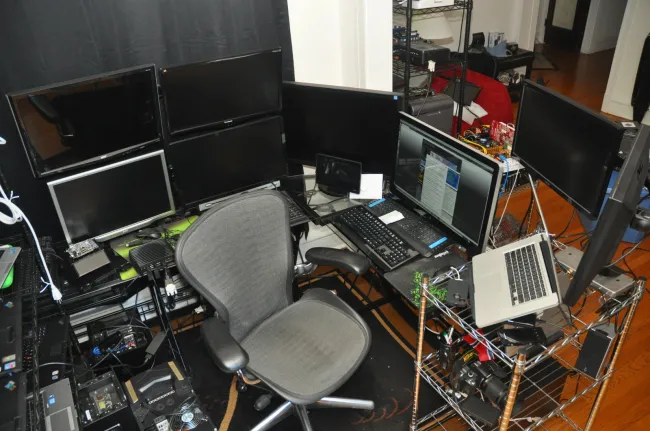 There's also some more pictures and office part recommendations within
this tour of the Phoronix office
from 2012, but again, my new office setup and server farm under development is even much better... Don't forget to share your office setups by commenting in our forums!