Mark Shuttleworth Goes Blogging On Ubuntu Defense
Mark Shuttleworth hadn't written on his blog -- where he posts just a few times per year -- since last December. That changed this morning though where he's already written two separate blog posts to come to the defense about Ubuntu rolling releases and saying criticism is misplaced about Canonical not taking care of the Ubuntu community.
Mark's
first post
was about Ubuntu as a rolling release distribution. He says that rolling releases aren't releases at all so he hasn't given it much thought over the years as members of the community have written proposals. This year though he approved the Canonical engineering team doing a deep assessment about turning Ubuntu into a rolling release model.
Unexpected findings he says during this rolling release assessment was that for independent software vendors it may be rather hard to target every Ubuntu Linux release made between the LTS releases every two years, the LTS point releases bring back-ports of high priority software components, and the daily quality of the Ubuntu development packages have improved a great deal.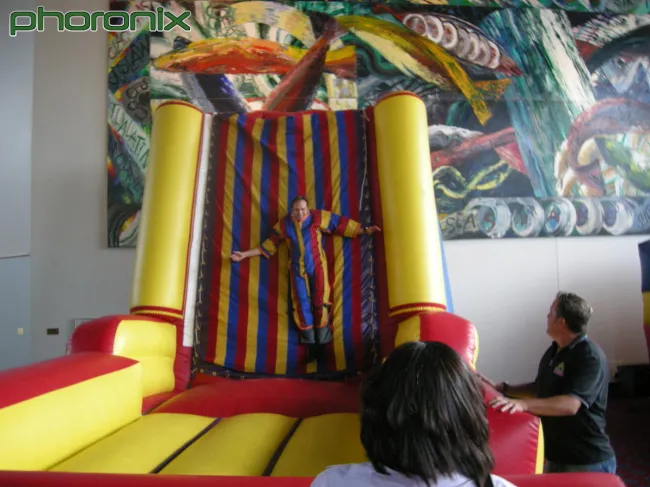 Mark Shuttleworth stuck to a wall, from the days when Ubuntu Live was a conference.
An interesting quote from his blog post, "When we started, we said we wanted to deliver the best of open source on a cadence. It was up to KDE, GNOME, XFCE to define what that was going to look like, we would just integrate and deliver (a hard problem in itself). By 2009 I was convinced that none of the existing free software communities could create an experience that could challenge the existing proprietary leaders, and so, if we were serious about the dream of a free software norm, we would have to lead. The result is Unity, which is an experience that could become widely adopted across phones, tablets, PCs and other devices. Of course, that is a disruptive change, and has caused some members of existing communities to resent our work. I respect that others may prefer different experiences, so we remain willing to do a large (but not unlimited) amount of work to enable KDE, GNOME, and other DEs to thrive inside the broader Ubuntu umbrella. We also take steps to accommodate developers who want to support both Unity and another DE. But if we want to get beyond being a platform for hobbyists, we need to accelerate the work on Unity to keep up with Android, Chrome, Windows and Apple. And that's more important than taking care of the needs of those who don't share our goal of a free software norm."
Another interesting quote from Mark:
Everyone that I care about in open source has a shared dream: they want free software to become the norm, not the exception. And Ubuntu is the only way I can see for that to happen, which is why I spend all my time on it, and why so many other people spend huge amounts of time on it too.

I simply have zero interest in the crowd who wants to be different. Leet. 'Linux is supposed to be hard so it's exclusive' is just the dumbest thing that a smart person could say. People being people, there are of course smart people who hold that view.

What I'm really interested in is this once-in-a-lifetime opportunity to create a free and open platform that is THE LEADER across both consumer and enterprise computing.
Mark ends up concluding his blog post by reiterating that rolling releases are not releases. However, he wants to see even more Ubuntu Linux releases. "So I think it IS worth asking the question: can we go even faster? Can we make even MORE releases in a year? And can we automate that process to make it bulletproof for end-users?...Daily quality has made the Ubuntu development release perfectly usable for developers. That's a huge accomplishment. Now let's think carefully about the promises we're making end-users, and see if it isn't time to innovate again, just as we innovated when we created Ubuntu on a six month cadence."
In Mark's
second post
of the day he talks about misplaced criticism. Mark specifically calls out Jonathan Riddell of Kubuntu with his claims that Canonical is not taking care of the Ubuntu community. "Just because you may not get what you want is no basis for divisive leadership," Mark says. He went on to say in this shorter post, "it's simply wrong to suggest that Canonical isn't hugely accommodating to the needs of others, or that it's not possible to contribute or participate in the parts of Ubuntu which Canonical has a particularly strong interest in. Witness the fantastic work being done on both the system and the apps to bring Ubuntu to the phone and tablet. That may not be your cup of tea, but it's tremendously motivating and exciting and energetic."