We Rely On Your Support: Did you know that you can get Phoronix Premium for under $3 per month? Try it today to view our site

ad-free, multi-page articles on a single page, and more

while the proceeds allow us to write more Linux hardware reviews.
Enermax Marathon Enlobal Fan
For years now we have been accustomed to sleeve and ball bearing fans to cool our beloved computer components. However, Enermax is attempting to appeal to the quiet-minded enthusiasts by unleashing their own line of Enlobal bearing case fans. This new general design is used in fans from featuring auto restart, manual and automatic speed adjustment, and the Marathon (very long lasting fan). All of the fore mentioned fans are rated as silent fans and run anywhere from 17dB up to about 40dB while pushing up to 60CFM of air. The fan we will be looking at today is the Marathon version from Enermax that boasts the following rap sheet:
Features:
· Enlobal Bearing
· 17dB noise level
· 900~1100 RPM
· 44CFM Airflow
· Seven Blades
· Exclusive ENLOBAL bearing with magnetic-barometric design to run friction-free and noiseless
· Nano-technology composite for lowest abrasion and extreme durability
· Detachable fan blades can be cleaned
Contents:
In the past Enermax has sold cases, power supplies, external enclosures, and a few nice keyboards, now they have decided to sell a 120mm fan. However, this is no ordinary fan; as usual, Enermax is selling their version of this common case fan with a different well thought through approach (in this specific case: longevity and silence). It only makes sense that they move into this market so they can sell you a majority of the parts you will need to house and operate a fully functioning computer (case, PSU, case fans) supported by well designed cooling and computer housing products.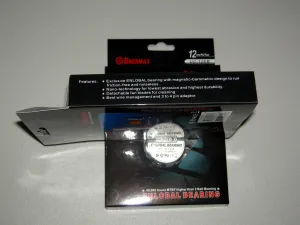 While there are a plethora of fans in existence, a majority of the ultra-silent fans available are either not as powerful, or are louder than the Enermax fans. It would seem that the use of the Enlobal bearings might be the key element in reducing noise while being able to move air at such speeds. Included with the Enermax Marathon fan was the 120mm fan itself, mounting screws, and a 3-pin fan to 4-pin molex adapter. For review purposes today we had two Enermax Marathon Enlobal Magnetic Barometric Bearing Fans (UC-12EB).