Show Your Support: Have you heard of Phoronix Premium? It's what complements advertisements on this site for our premium ad-free service. For less than $4 USD per month, you can help support our site while the funds generated allow us to keep doing Linux hardware reviews, performance benchmarking, maintain our community forums, and much more.
AMD's New Athlon/Semprons Give Old Phenom CPUs A Big Run For The Money
Curious how AMD's new AM1 platform APUs compare to the original AMD Phenom processors? Wondering myself, I ran some tests showing how the Sempron 2650 and 3850 along with the Athlon 5150 and 5350 compare to the original Phenom 9500 and Phenom II X3 710 processors with RS780/RS880 motherboards. Besides the new APUs being competitive against the old hardware while costing much less than the original Phenom CPUs, their power consumption is also at a fraction of AMD's former high-end processors. Here's a brief but nice look at AMD's processing evolution in going from Phenom CPUs to today's AMD budget APUs.
The Phenom 9500 (Agena) was one of AMD's original quad-core Phenoms and came clocked at 2.2GHz with a 95 Watt TDP and was introduced in late 2007. Meanwhile, the Phenom II X3 710 (Heka) came in 2009 and was a 2.6GHz processor with a 95 Watt TDP. It should be fairly interesting to see how these former high-end AMD CPUs compare to today's ultra-budget APUs. The top-end AM1 APU, the Athlon 5350, costs just about $55 USD and has a 25 Watt TDP.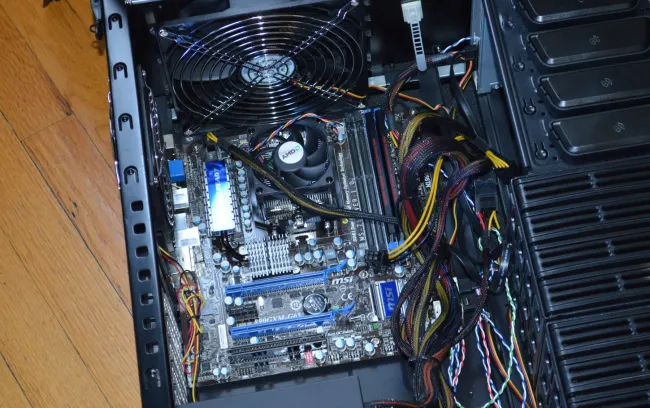 The AMD Phenom 9500 was run from an ECS A790GXM-A motherboard with the RS780 chipset that sported Radeon HD 3300 graphics. The newer AMD Phenom II X3 710 was run from the MSI 890GXM-G65 with RS880 chipset that offered Radeon HD 4290 graphics. The Phenom 9500 and Phenom II X3 710 were the last of my original AMD Phenom systems (and other older AMD hardware) still running that haven't yet been decommissioned within the Phoronix test labs.
These two AMD Phenom systems were then run against the Sempron 2650/3850 and Athlon 5150/5350 APUs running from the ASUS AM1I-A motherboard. The hardware components were maintained the same where possible and relevant to our processor/graphics test focus. This testing was mainly done for interesting test purposes to see how far AMD's processors have come since the original AMD quad-core Phenom the better part of a decade ago.
All systems were running Ubuntu 14.04 x86_64 with upgrades to the Linux 3.14 kernel and Mesa 10.2-devel. All benchmarking was handled via the Phoronix Test Suite software.