eVGA e-GeForce 6800GT PCI-E
Now that the GeForce 7800GTX 256MB and 7800GT have been readily available for a few months and the prices continue to slide, much of our attention, and that of enthusiasts, have been focused on the ever-growing GeForce 7 series. However, not everyone can afford these lavish graphics cards that can cost upwards of $500 USD. Nevertheless, the GeForce 6 series have been around for over a year now and continue to remain popular due to their lower price-point and continued compatibility and performance with current and upcoming games. From the GeForce 6800 series, we have the NVIDIA 6800GT 256MB PCI Express, which was brought to us by the folks at eVGA. Sticking by NVIDIA's reference specifications, the eVGA e-GeForce 6800GT 256MB GDDR3 is clocked at 1000MHz while the NVIDIA core is running at 350MHz with its 16 pixel pipelines and 400MHz RAMDACs. Continue on as we experiment with the eVGA 6800GT PCI-E, while comparing it against its younger 6600GT sibling as well as the high-end 7800GTX model; and of course under our arsenal of GNU/Linux graphical benchmarking of not only gaming but also workstation performance.
Features:
· NVIDIA GeForce 6800 GT
· 350 MHz GPU
· 16 Pixel Pipelines
· 400 MHz RAMDAC
· 256 MB, 256-bit GDDR3
· 1000 MHz (memory - effective)
· 32 GB/s Memory Bandwidth
· PCI-E x16
· DVI-I, DVI-I, S-Video
· SLI Capable
· NVIDIA CineFX 3.0 Technology
· 64-Bit Texture Filtering and Blending
· NVIDIA UltraShadow II Technology
· Superscalar 16-pipe GPU Architecture
· Intellisample 3.0
· Vertex Shaders 3.0
· Pixel Shaders 3.0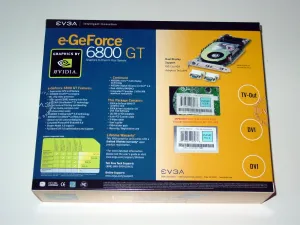 Contents:
Unlike some manufacturers who often inflate their packaging with a variety of extras, such as various PC games and accessories, eVGA simply provides the minimal components needed for operation, which ultimately should lower the retail price of the unit. Included inside the packaging were the PCI Express-based card, driver installation CD as well as some trial software, two DVI to VGA dongles, 6-pin PCI Express power adapter, S-Video cable, user's guide, eVGA sticker pack, and warranty/registration card. The card itself was encased in a plastic container to allow no physical damage during shipping as well as protection against electro-static discharge. Although today we're reviewing the 6800GT PCI Express model, eVGA also manufacturers an AGP 8x version of the card for those of you who haven't yet made the leap to the wonderful world of PCI Express.