Samsung 970 EVO NVMe SSD Benchmarks On Ubuntu Linux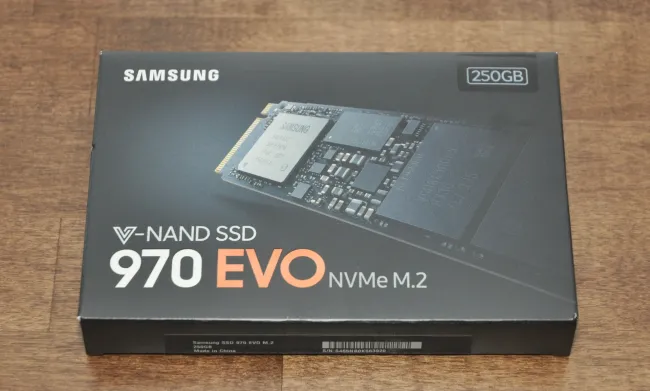 Last month Samsung introduced the 970 Series solid-state drives with the mainstream 970 EVO models and 970 PRO models for professionals/enthusiasts. The 970 Series moves to a 64-layer flash and uses a five-core Phoenix controller. For those curious about the Samsung 970 EVO performance under Linux, I have carried out some quick benchmarks to show off its potential under Ubuntu.

The Samsung 970 EVO SSDs are using TLC memory while the Samsung 970 PRO goes with the faster MLC flash memory. The 970 EVO ranges in capacities from 250GB to 2TB with the prices ranging from $120 USD to $850. While not quite as feature packed as the 970 PRO, it is a lot cheaper with the 970 PRO starting out with a 512GB capacity for $230 USD.
The Samsung 970 EVO 250GB (MZ-V7E250BW) being benchmarked in this article is rated for sequential reads up to 3400MB/s, sequential writes up to 1500MB/s, random 4KB reads at 200k IOPS, random 4K writes at 350K IOPS, and an average power consumption of 5.4 Watts with a peak of 9.0 Watts. Samsung rates this 970 EVO series drive as having a 1.5 million hour MTBF and is backed by a five year warranty / 150 TBW rating.
I purchased the Samsung 970 EVO 250GB recently when needing another NVMe M.2 SSD in one of the Linux test systems. Prior to commisioning it I ran some benchmarks with a few of the other NVMe solid-state drives I had available. The other drives included the Corsair Force MP500, Intel 600p, Intel 700p, Intel 800p, and Samsung 950 PRO based upon what I had available with generally not receiving any SSD review samples. The benchmarks were done on Ubuntu 18.04 LTS while using the Linux 4.17 kernel and formatting each drive to an EXT4 file-system with the default mount options. These Linux I/O benchmarks were then carried out using the Phoronix Test Suite.
In the sequential read department, the Samsung 970 EVO was performing very well and beating out the older Samsung 950 PRO model.
As well as with the sequential writes under FIO, the Samsung 970 EVO was performing extremely well.
But when it came to FS-Mark, the Samsung 970 EVO performed not as well with losing to the Intel 800p and others in the single-threaded test.
With the IOzone performance, the Samsung 970 EVO MZ-V7E250BW was back to competing while the more expensive Intel 800p SSD was giving it a stiff battle.
While running a PostgreSQL database server, the Intel 800p was doing a much better job than the 970 EVO or any of the other NVMe SSDs tested for that matter.
A common problem we have seen with some Samsung drives have been very poor performance with SQLite databases and with the 970 EVO it ended up being even slower than the aging Corsair Force MP500 120GB SSD.
For the most part though, the Samsung 970 EVO 250GB NVMe SSD is offering very good value compared to the small selection of other drives tested for this mini review today. If you want to see how your own Linux storage performance compares to the results in this article, simply install the Phoronix Test Suite and run phoronix-test-suite benchmark 1806122-PTS-SAMSUNGE04 for your own fully-automated, side-by-side benchmark comparison.