We Rely On Your Support: This site is primarily supported by advertisements.

Ads are what have allowed this site to be maintained for the past 15 years.

We do our best to ensure only clean, relevant ads are shown, when any nasty ads are detected, we work to remove them ASAP. If you would like to view the site without ads while still supporting our work, please consider our ad-free Phoronix Premium. You can also consider a tip via PayPal.
CompuLab Fitlet 2 Is A Mighty Fine, Low-Power PC Preloaded With Linux Mint
The Fitlet2 configuration we received as a review sample courtesy of CompuLab was making use of the Celeron J3455 SoC, 8GB of DDR3-1600MHz memory, and a 128GB NT-128 KingSpec SATA M.2 SSD.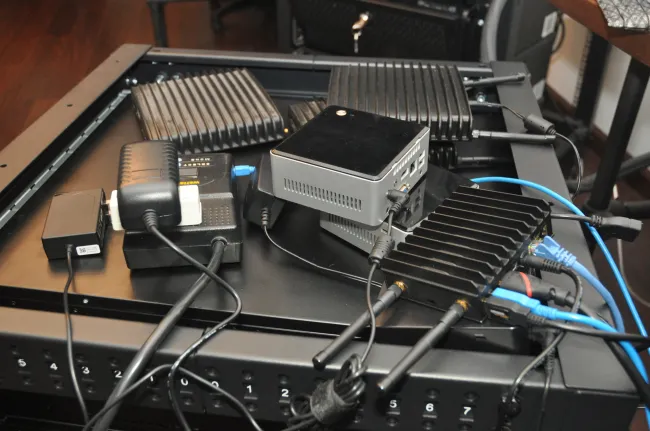 The Celeron J3455 is a quad-core Apollo Lake SoC with a 1.5GHz base frequency and burst frequency up to 2.3GHz. There's a 2MB cache for the processor, onboard Skylake-based HD Graphics 500, and the entire package has a 10 Watt TDP. The Celeron J3455 supports two memory channels but due to the compact size of the Fitlet2 there is just one DDR3 DIMM.
The CompuLab Fitlet2 booted up right away to a Linux Mint installation. Everything was working fine with Linux Mint that is derived from Ubuntu 16.04 LTS packages on this Apollo Lake platform. But as Ubuntu 18.04 LTS is just around the corner, Ubuntu 18.04 daily was used for testing on this system and all of the other Linux mini PCs / SFF PCs tested for this article to get a bleeding-edge kernel and other packages for seeing how the performance will look on this system when Ubuntu 18.04 ships in just one month.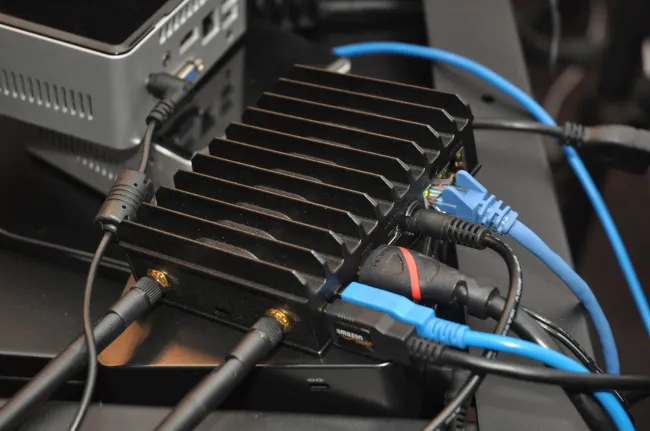 The Fitlet2 with Celeron J3455 was benchmarked alongside several other small PCs and NUCs while all were running Ubuntu 18.04 LTS x86_64 with the Linux 4.15.0 kernel, GNOME Shell 3.27.91, Mesa 18.0-rc4, EXT4 file-system, and the GCC 7.3 compiler. The other tested systems included:
- The original CompuLab IPC (Intense PC) with Core i7 3517UE Ivy Bridge processor, 8GB RAM, and 500GB HDD.
- The CompuLab IPC2 with Core i7 4600U Haswell with 8GB RAM and 120GB SSD.
- The current-generation CompuLab IPC3 with Core i7 7500U Kabylake processor, 16GB RAM, and 256GB SSD. Clearly faster than the Fitlet2, but intended for different use-cases with the IPC3 still being small but about twice the size or so of the Fitlet chassis.
- MSI's MS-B1421 CubiBox with Core i5 7200U Kabylake processor, 8GB RAM, and 256GB Samsung 850 SSD.
- Intel DN2820FYK NUC with Bay Trail Celeron N2820 processor, 8GB RAM, and 60GB SSD. The once popular N2820 Bay Trail part is dual-core with a 2.13GHz base frequency, 2.39GHz burst, and 7.5 Watt TDP.
- Intel NUC5CPYB NUC with Celeron N3050 Braswell, 8GB RAM, and 64GB SSD. The Braswell N3050 as a reminder is a dual-core part with 1.6GHz base frequency, 2.16GHz burst frequency, and 6W TDP.
- Intel NUC5i3RYB with Core i3 5010U Broadwell CPU, 8GB RAM, and 256GB SSD.
- ASRock HM55-HT is an older "nettop" system with Core i3 330M CPU, 4GB RAM, and 500GB HDD.
- ASRock HM55-MXM as another older "nettop" with Core i3 370M with 4GB RAM and 500GB HDD.
These were the other small form factor / compact PCs available for testing this time around with Ubuntu 18.04 LTS daily. The original Fitlet had to be left out due to some Radeon driver or thermal issues with that configuration not playing nicely with 18.04 LTS.
Besides benchmarking the raw performance of these different systems, the AC system power consumption was also monitored on each system along with the reported CPU temperature and the Phoronix Test Suite also provided performance-per-Watt data points. All of these benchmarks were handled in a fully-automated and reproducible manner using the open-source Phoronix Test Suite benchmarking software.