Building A Cheap Intel Skylake System For Linux Use
Here are a few parts recommendations I have if you are looking to build a low-cost Intel Skylake system while achieving decent performance on Linux this holiday season.
First off, this recent build I did was with the Pentium G4400 as the current cheapest Skylake processor at around $60 USD. In that review of the G4400 you can see plenty of benchmarks for this dual-core processor as well as of the graphics performance of the HD Graphics 510. At the time of writing this 3.3GHz processor is retailing for around $70 USD on Amazon.com.
The motherboard for this build was the Gigabyte GA-H110M-A and in that review you can find all the details. This LGA-1151 motherboard with the Intel H110 chipset has been working out fine in my tests albeit not as featureful as the Z170 motherboards. That board is currently selling for around $58 USD on Amazon.
For storage I went with a Samsung 850 EVO SSD. This solid-state drive isn't the cheapest, but I had one handy, otherwise you can see our other Linux storage reviews for some cheaper SATA 3.0 SSDs.
The system memory was this 2 x 4GB Crucial DDR4-2133MHz kit. It's under $50 for 8GB of DDR4 and is fast enough at DDR4-2133MHz since the H110 motherboards don't allow for overclocking.
The power supply was the EVGA 500W 80+. Besides being the number one best seller on Amazon for power supplies, it costs less than $40 USD. I've bought at least two dozen of these power supplies for different systems in the test farm and have yet to run into any troubles with them.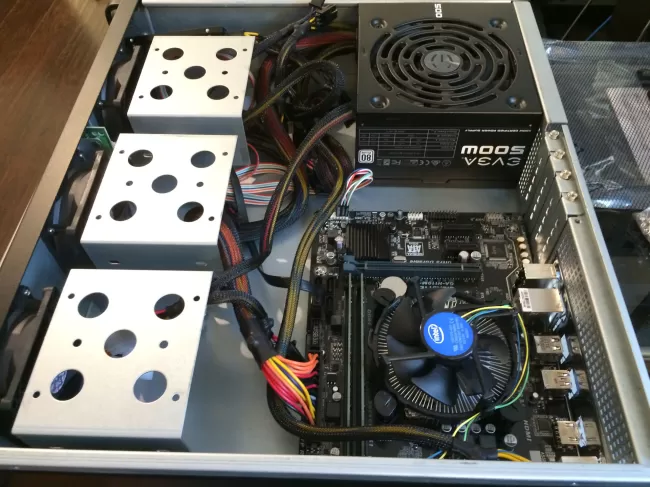 As this system was being racked up, I used this 2U Rosewill server chassis for $70. It costs more than the processor or motherboard, but I have many of these RSV-Z2600 2U cases running in the benchmarking server room and they work out well. Of course, for just a normal PC build you can get buy with a much cheaper enclosure.
With the parts mentioned, you should be in good shape running them on Linux if you are using at least the Linux 4.3 kernel. With Linux 4.3 is where Skylake graphics are now enabled by default, Skylake audio is there, and more. A clean Ubuntu 15.10 install will also work, but when it comes to running the latest-generation hardware on Linux I tend to prefer running the bleeding edge kernel, Mesa, etc, for best support. Hopefully some of these quick product recommendations are useful if you are trying to assemble a low-cost system this winter. If there's any further questions, feel free to ask away in our forums.
If you enjoyed this article consider joining Phoronix Premium to view this site ad-free, multi-page articles on a single page, and other benefits. PayPal tips are also graciously accepted. Thanks for your support.