We Rely On Your Support: If you would like to support Phoronix this autumn during these challenging times, you can enjoy our "Oktoberfest" sale... Phoronix Premium is available at a discounted rate for the rest of September. Learn more with the the 2021 Oktoberfest special.
Hiper Clavier Aluminum Keyboard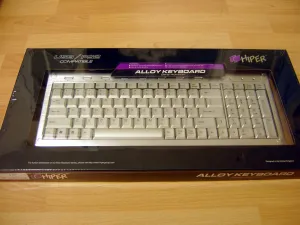 Keyboards are perhaps one of the most essential parts of the computer. In fact keyboards are also one of the two most used devices on your computer. Keyboards however can be one of the leading causes of repetitive stress injuries and carpal tunnel syndrome; so manufacturers these days try to make keyboards as comfortable as possible for the users. It used to be that keyboard makers like Logitech and Microsoft tried to make "natural" keyboards that attempted to conform to the natural curve of people's hands. There was a flaw with those "natural" keyboards, however. The keyboards were excessively thick and thus created problems of people resting their wrists lower than their fingers. This is very bad since the blood flow to the fingers is restricted and is a primary cause of carpal tunnel. Keyboard manufacturers today are correcting that problem by offering ultra-thin keyboards. Many keyboard manufacturers have adapted laptop style keyboards to help further decrease the thickness. But of course, functionality is often not enough these days, so manufacturers are always thinking of ways to spiff up the keyboard. Aluminum keyboards, lighted keyboards, and rollup keyboards are all being offered. Today we have the Hiper Clavier Aluminum Keyboard to see how well it performs.
Features:
· Flat keyboard layout
· Slim & Stylish profiling
· Tiltable
· Heavy-duty construction Suitable for long term business usage
· Fully compatible with Windows 9x/ME/XP
· USB and PS2 platform connectivity
· Purple LEDs
· Full Travel, laser cut, short keys for ultra long term durability, performance, and styling
· Ultra Slim…only 1.8cm
Contents:
The keyboard was packed in a slim, nicely printed cardboard box. All that was included in the package was the keyboard itself.