Thecus N4310: A 4-Disk Linux NAS
When getting to the web interface of the N4310, it wasn't the best one I've seen. It took some getting used to, such as completely overlooking the small control panel icon on the left side at first, but after a few minutes of getting acquainted with the interface it was working out well.
From the ThecusOS panel it was very easy to setup the encrypted EXT4 four-drive RAID array with the Western Digital hard drives, configure services like FTP and Samba, UPnP, enable SSH, LDAP support, and more. ThecusOS also makes it easy if you want to backup the data to an rsync server, Amazon S3 storage, etc. Via the USB ports it's also possible to setup a print server and more. For my purposes of using a NAS, it's mostly for file backups via SMB/FTP.
When connecting to the device via SSH you are able to login as root. This Thecus device is running the Linux 2.6.32 kernel. Via SSH access was able to dive further and see the Thecus N4310 is powered by the PowerPC edition of Fedora 16. With seeing the old software stack makes it clearer why Btrfs isn't offered on this device.
Yum is present on the N4310, but the default repository only points to a Thecus.com repository, but it would be possible to specify an alternate Fedora PowerPC repository if wanting to customize the device further.
Over the past few weeks of using the Thecus N4310, it's been working out fine for my purposes and I haven't run into any issues with it since the initial setup. My main complaint about the device is that it requires a Windows/OSX system to do the initial setup; I'd much prefer if it would just auto-discover the network by default or at least to have an Android/iOS setup app too (or the Chrome browser Linux app). Aside from that main nuisance, it would be nice if the web UI was more polished, but after poking around for a few minutes any technical user should be able to get the hang of things and figure everything out. Thus now used to the device, I would consider taking a look at the other Thecus Linux NAS products too and am happy with how the N4310 is operating.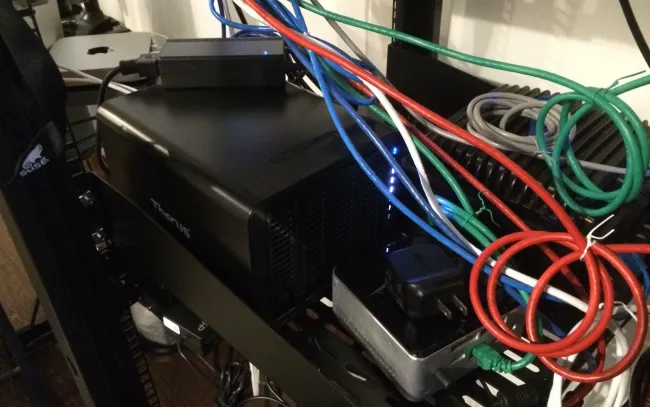 The N4310 is currently selling for $266 USD at Amazon.com where they also have the other Thecus Linux NAS products too.
If you enjoyed this article consider joining Phoronix Premium to view this site ad-free, multi-page articles on a single page, and other benefits. PayPal or Stripe tips are also graciously accepted. Thanks for your support.