Independent Developers Contribute A Lot To Mesa, X.Org
Now are the statistics for the X.Org Server. In nearly twelve years, the X Server repository has seen over 10,830 commits from around 345 developers. There are a total of 688,020 lines of code distributed in around 1,650 files.
X.Org Server development was at a high point (in terms of commits) around 2007 and 2008, when DRI2 was being brought forward and other exciting changes. In the past two to three years, however, the rate of commits has declined.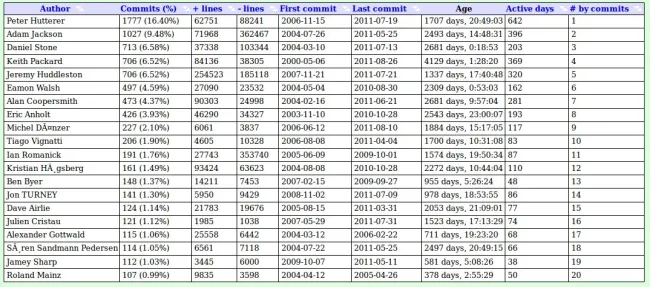 The number one contributor to the X.Org Server code-base is Peter Hutterer. Peter's one of the XDC2011 panel participants for contributing to open-source as he began contributing while at university in Australia and was the mastermind behind Multi-Pointer X (MPX). Peter remains involved with X.Org on the input side and is responsible for much of its advancements in recent years. Peter accounts for over 16% of the commits to Mesa. What makes this number even more impressive is that in second place is Red Hat's Adam Jackson, who is responsible for less than 10% of the commits. In third and fourth are Daniel Stone and Keith Packard, respectively. Adam, Daniel, and Keith have all been involved with X.Org Server development longer -- years longer -- than this recent university graduate, yet Peter leads the pact by commit count.