Show Your Support: Have you heard of Phoronix Premium? It's what complements advertisements on this site for our premium ad-free service. For less than $4 USD per month, you can help support our site while the funds generated allow us to keep doing Linux hardware reviews, performance benchmarking, maintain our community forums, and much more.
Ubuntu 10.10 Benchmarks
With Ubuntu 10.10 having been released yesterday on the 10th of October, many Ubuntu users will be upgrading to this latest release in the coming days. However, for those that are concerned about the performance of this latest release that is codenamed the Maverick Meerkat, here are some benchmarks comparing its performance to Ubuntu 10.04.1 LTS as well as last October's Ubuntu 9.10 release.
In this first round of comparing the performance of Ubuntu 9.10, Ubuntu 10.04.1 LTS, and Ubuntu 10.10 we used a Lenovo ThinkPad T61 notebook and an ASRock Core 100HT NetTop. The Ubuntu 10.10 Release Candidate that was made available last week was used for this testing. Netbook and server hardware will be benchmarked for Ubuntu 10.10 in the coming days and weeks.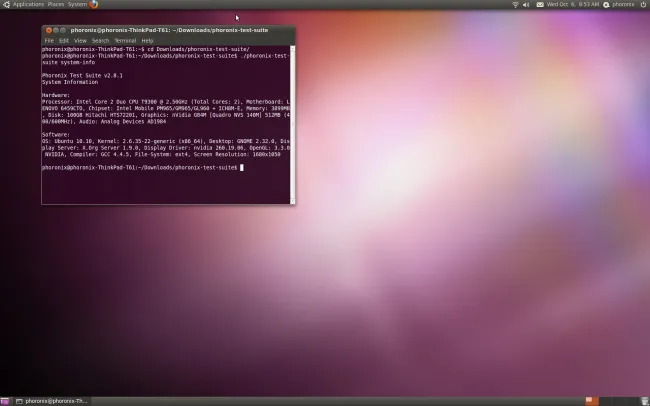 The hardware in the Lenovo ThinkPad T61 includes an Intel Core 2 Duo T9300 (dual-core; 2.50GHz CPU), Intel PM965 + ICH8M-E motherboard, 4GB of DDR3 system memory, 100GB Hitachi HTS72201 SATA HDD, and NVIDIA Quadro NVS 140M 512MB graphics. The ASRock Core 100HT has an Intel Core i3 M 330 CPU (dual-core + Hyper Threading; 2.13GHz CPU), an ASRock HM55-HT motherboard, 4GB of system memory, a 500GB Seagate ST9500325AS SATA HDD, and Intel Core "Arrandale" graphics.
Via the Phoronix Test Suite we ran a variety of benchmarks on both systems, including Nexuiz, Warsow, Apache, PostgreSQL, Bullet Physics, SmallPT, Compress 7-Zip, FFmpeg, IOzone, PostMark, and Network Loopback.
All three Ubuntu x86_64 releases were left in their stock configurations during the testing process. Ubuntu 9.10 results for the Core 100HT are not available due to hardware compatibility problems in that release. In Ubuntu 9.10 the key information includes the Linux 2.6.31 kernel, GNOME 2.28.1, X.Org Server 1.6.4, NVIDIA 185.18.36, GCC 4.4.1, and an EXT4 file-system. Ubuntu 10.04.1 LTS information includes the Linux 2.6.32 kernel, GNOME 2.30.2, X.Org Server 1.7.6, NVIDIA 195.36.24, xf86-video-intel 1.7.6, Mesa 7.7, GCC 4.4.3, and an EXT4 file-system. Lastly, with Ubuntu 10.10 we have the Linux 2.6.35 kernel, GNOME 2.32.0, X.Org Server 1.9.0, NVIDIA 260.19.06, xf86-video-intel 2.12.0, Mesa 7.9, GCC 4.4.5, and an EXT4 file-system.