AMD Phenom 9500 Linux Performance
Have you recently upgraded to AMD's Spider platform with their quad-core Phenom processor and are running Linux? If so, and are experiencing kernel panics, stability problems, and even a psychedelic Ubuntu logo, you're not alone. Earlier this week we had looked at AMD's new 790FX Chipset under Linux and now it's time to deliver the world's first Linux benchmarks of AMD's Spider platform. However, getting to the point of delivering these Linux benchmarks wasn't exactly smooth sailing. In this article, we'll be looking at the AMD Phenom 9500 performance under Ubuntu 7.10 as well as sharing our experiences with this new AMD platform.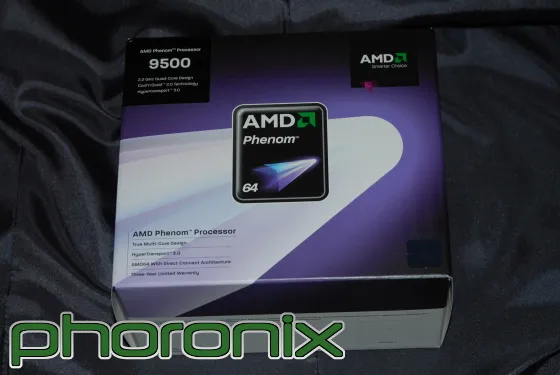 For those who haven't yet investigated the Spider platform, it's made up of the AMD 7-Series Chipsets, Radeon HD 3800 series graphics, and their first quad-core Phenom processors. The AMD Phenom 9500 (Socket AM2+) uses the Agena core and has a stock frequency of 2.2GHz, 3.6GHz Hyper-Transport, and is built upon a 65nm process. AMD's Phenom 9500 has a TDP of 95 Watts. The cache breakdown is four blocks of 128KB L1 cache, four blocks of 512KB L2 cache, and 2MB of L3 cache. Like AMD's earlier AM2 processors, the Phenom series supports AMD Virtualization Technology and Cool 'n' Quiet throttling. The rest of our AMD Spider testing platform was made up of an ASUS Radeon HD 3870 512MB graphics card and Gigabyte MA790FX-DS5 motherboard.
For these initial Linux benchmarks, we had looked at the AMD Phenom / Spider performance in OpenGL gaming, LAME encoding, Ogg encoding, Gzip compression, timed kernel compilation, and RAMspeed. The OpenGL gaming benchmarks we used were Enemy Territory, Quake 4, and Enemy Territory: Quake Wars. All three of these games have Linux-native clients. For those not familiar with LAME encoding, the benchmark used measures the time needed to encode a WAV file to an MP3 using LAME 3.97. Similarly, in the Ogg encoding test the time was measured to convert a WAV file to an Ogg with a 256-bit rate. For our kernel compilation test, we had measured the time required to compile the Linux 2.6.23.12 kernel using a standard configuration file. When compiling the kernel we had used the -j (jobs) argument with the number of cores present in the system plus one.