Old AMD CPU & Motherboard Support Removed From Open-Source Coreboot
Upstream Coreboot has phased out support for older AMD 14h / 15h / 16h series processors and associated motherboards.
Due to these older AMD platforms depending upon the legacy SMP initialization path and were never ported over to the newer code, following the deprecation these targets have been dropped from upstream Coreboot. Not entirely unexpected given that these older ports were unmaintained and not being adapted for any new Coreboot features, etc. Those still running older AMD motherboards with the Coreboot firmware can continue to keep on using their existing firmware. Likewise, thanks to Git and existing Coreboot tagged releases, those picking up any of these old AMD motherboards can continue running prior Coreboot releases if so desired. But as far as upstream is concerned, these old AMD CPUs/motherboards are no longer supported.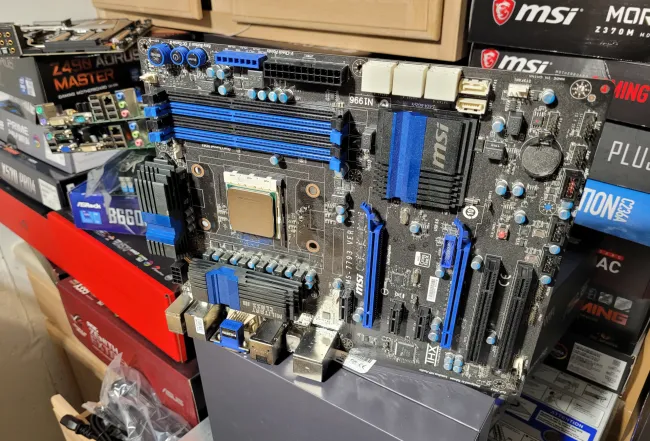 This code is a bit sentimental since back in the day, AMD used to contribute to upstream actively for new platforms.
AMD used to actively support Coreboot
for new APU platforms in particular -- in 2011
AMD pledged to support Coreboot across future CPUs
but that only lasted for a few years. These days, however, their extent of contributing to Coreboot has tended to be limited to hardware finding its way for use within Google Chromebooks.
Now all of that code they worked on along with their engineering partners a decade ago when actively promoting their Coreboot support has been removed from mainline. Hopefully they can make a new glorious period of great Coreboot support beyond just needs for Google Chromebooks, but for now we are left just waiting and hoping.
Clearing out the old LEGACY_SMP_INIT code, the old motherboards, and the old AMD platform code lightened up Coreboot by around 738k lines!
AMD Family 15h Bulldozer era support was axed that included:
- Reference boards of "Parmer" and "Thatcher".
- ASUS A88XM-E
- ASUS F2A85-M
- HP Pavilion M6 1035DX
- Lenovo G505S
- MSI MS-7721 FM2-A55M-E3
AMD Family 14h "Bobcat" CPUs were also cut, including boards such as:
- AMD Iguana, South Station, Union Station, and Persimmon reference boards.
- ASRock E350M1
- Elmex PCM205400
- Elmex PCM205401
- Gizmosphere Gizmo
- Jetway NF81-T56N-LF
- Lippert Frontrunner-AF
- PC Engines APU1
AMD Family 16h boards from the Jaguar and Puma APU days were also stripped from Coreboot. This affects boards such as:
- AMD Olivehill reference board.
- ASRock IMB-A180
- ASUS AM1I-A
- BAP ODE_E20XX
- Biostar A68N-5200
- Biostar AM1ML
- Gizmosphere Gizmo2
- HP ABM
It's sad to see, but hopefully we can see more vibrant AMD Coreboot support for modern platforms in the future.