The Phoronix Test Suite Is Running On Windows 10
I've been playing with Windows 10 since yesterday... I must applaud Microsoft that it's a heck of a lot better than Windows 8, as the Windows 10 desktop experience is alright and Edge is nicer than Internet Explorer, but I still don't have any intentions on switching back to Windows this lifetime.
Of course, I've been trying out Microsoft
Windows 10
just to know what desktop competition Linux distributions have in the near-term and then of course for running some
Windows vs. Linux benchmarks, which I started writing about yesterday
.
The Windows 10 Pro x64 install experience went well on one of the test systems and once using the desktop it felt surprisingly fine... There was no major cursing, no feeling a sudden need for a drink, or other frustrations but was much more desktop-friendly than Windows 8.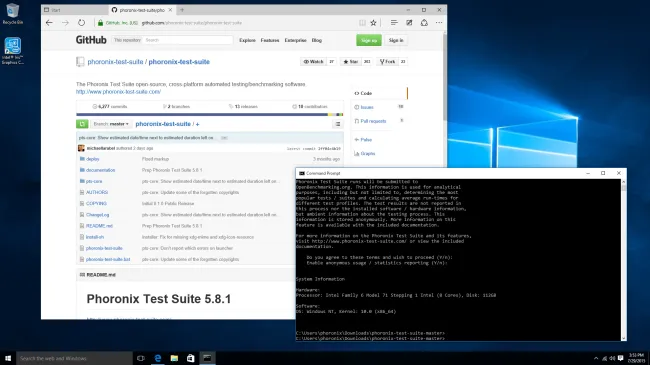 The latest
Phoronix Test Suite
code
via GitHub
also ran out-of-the-box on Windows 10. Going into this I wasn't sure if any modifications would be needed, but happily, things managed to just work. The only setup is the same as other Windows x64 versions: simply drop the extracted PHP files into
C:\Program Files (x86)\PHP
and then proceed to run the
phoronix-test-suite
from wherever it's located on your file-system.
Of course, the Phoronix Test Suite is not nearly as full-featured on Windows as it is on Linux, BSD, OS X, and Solaris, but all core functionality is there. There isn't as extensive hardware/software reporting and other features, but all of the commands, automation tasks, and other items are all in place. The only limitation comes down to the test profiles themselves (the bash scripts and XML) that must express the Windows platform support by either having a Windows build script or calling upon a Windows binary, etc.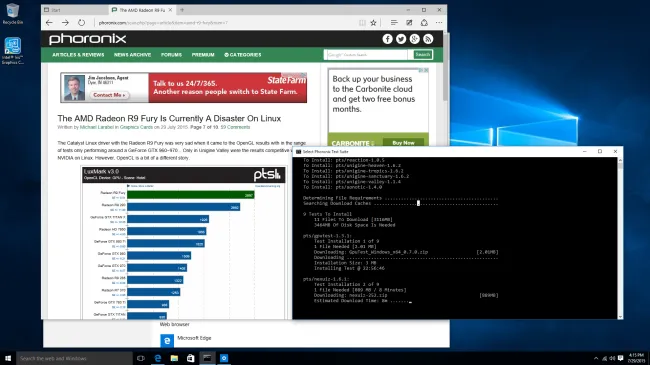 Given that to date there hasn't been much commercial interest in the Windows version of the Phoronix Test Suite, it's basically something I hack on whenever wanting to run new Windows vs. Linux tests myself. Thus right now most of the Windows-compatible test profiles just remain OpenGL workloads like GPUTest, Xonotic, Unigine tech demos, etc. Over the years these tests have proven to offer similar quality of Windows/Linux ports and be good cross-OS metrics.
From yesterday's call for
Windows 10 vs. Linux suggestions and support
, there's been little in the way of measurable help either in tips (only raised about $30 so far for this testing) or anyone interested in working on our open-source test scripts for Windows, etc, to add support for other workloads. Thus for now I'm just inclined to run the few OpenGL tests currently packaged and used in
past Windows vs. Linux comparisons
. So if you're seriously interested in Windows vs. Linux performance, please consider helping out one way (the easiest being
joining the subscription service
) or another. Writing 10+ open-source/Linux articles daily, maintaining all the open-source benchmarking software, and running all of these Linux hardware comparisons doesn't come easy or cheap and often goes seemingly unappreciated.
As soon as later today I hope to have out some Windows 10 vs. Fedora 22 benchmark results for OpenGL workloads with
Intel Broadwell Iris 6200 Graphics
as my first comparison of Microsoft's new operating system... Quite excited to see how Intel's latest Linux driver code compared to Windows for OpenGL? Stay tuned!