We Rely On Your Support: Did you know that the hundreds of articles written on Phoronix each month are mostly authored by one individual working insane hours? Phoronix.com doesn't have a whole news room with unlimited resources and relies upon people reading our content without blocking ads and alternatively by people subscribing to Phoronix Premium for our ad-free service with other extra features. You can also consider a tip via PayPal.
Way-Cooler Is Still Around As An i3-Inspired Wayland Compositor Written In Rust
When it comes to having an i3-compatible Wayland compositor,
Sway
manages to capture much of the limelight, but Way-Cooler continues to advance as an alternative compositor.
I've covered
the Way-Cooler compositor
in the past but in 2017 haven't had the opportunity to cover it, but over the weekend was delighted to hear that it's still advancing. Way-Cooler is a i3-inspired tiling window manager for Wayland that offers Lua-based configuration -- and to the excitement of some Phoronix readers -- is written in the Rust programming language.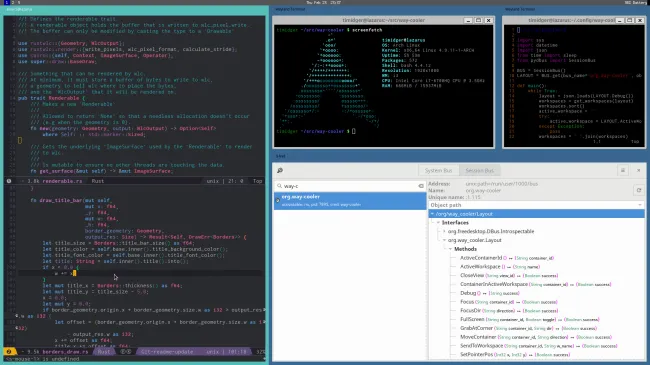 Way-Cooler is currently considered in a pre-1.0 beta phase with its support for i3-style tiling, D-Bus IPC support, XWayland compatibility, and more. Still to be tackled is Awesome WM compatibility, notifications, a dedicated status bar, and more customizations.
Those wishing to learn more about the Way Cooler Wayland compositor can do so via
GitHub
.