We Rely On Your Support: If you would like to support Phoronix this autumn during these challenging times, you can enjoy our "Oktoberfest" sale... Phoronix Premium is available at a discounted rate for the rest of September. Learn more with the the 2021 Oktoberfest special.
Various Vulkan Ray-Tracing Efforts, Including A Rust-Written Ray-Tracer
Given
all the interest in ray-tracing
and related announcements for Windows from last month's Game Developers Conference, I decided to spend some time on this holiday weekend looking at some of the Vulkan ray-tracing projects.
While Microsoft introduced the DirectX Raytracing (DXR) API for Direct3D 12, there isn't currently any dedicated ray-tracing API for Vulkan that is part of the specification. But AMD has open-sourced their Radeon ProRender with ray-tracing support leveraging Vulkan. And we're likely to see much more work in this area moving forward.
There have already been various ray-tracing projects making use of Vulkan on GitHub. Below are some of those projects if you are looking for some fun code to dive into this holiday weekend.
Vulkan-GPU-Ray-Tracer
- It's fairly basic, but it's working for demos and the ray-tracing is implemented using a Vulkan compute shader.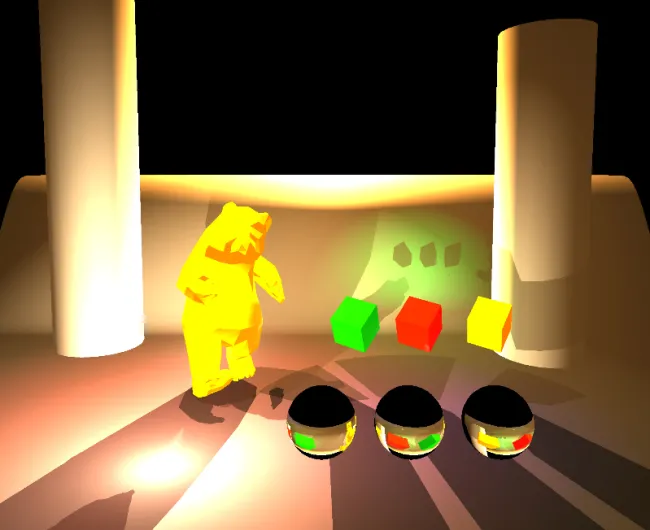 FinalProject-HybridRenderer
- This was for a final university project, but it's a hybrid renderer using ray-tracing and rasterization in Vulkan, or their "ray-raster" renderer. A lot of interesting technical information and documentation on that GitHub page, hit it up.
satellite-vk-oem
- A Vulkan 1.1 targeting ray-tracing mini-engine. It's much further along than just ray-tracing with a ball and box, at least for their demos.
vulkan_raytraced_cube
- A fairly basic Vulkan ray-tracing demo for those wanting to dive into the code. This ray-tracer is written in C++.
Vulkan_Ray_Tracer
- Still early in development, but a lot of code so far.
Vulkano-Raytracing
- Real-time ray-tracing in Vulkano, the Vulkan bindings for the Rust programming language. So far though this Rust-written Vulkan ray-tracer has a single triangle rendering and is quite basic, but the developer has ambitions to be able to do much more than its current state, and I know there are many Phoronix readers in the forums who are overjoyed about Rust code.
If I missed any other interesting Vulkan ray-tracing projects in the works, feel free to mention them in the forums.