We Rely On Your Support: This site is primarily supported by advertisements.

Ads are what have allowed this site to be maintained for the past 16 years.

We do our best to ensure only clean, relevant ads are shown, when any nasty ads are detected, we work to remove them ASAP. If you would like to view the site without ads while still supporting our work, please consider our ad-free Phoronix Premium. You can also consider a tip via PayPal.
Ubuntu's Reformulated Desktop Was The Talk Of 2017
2017 was easily the most pivotal year for the Ubuntu Linux distribution in years with Canonical having decided to end Unity 8 development in favor of moving to a GNOME Shell Wayland session. There was also the decision to develop a new server installer that is still under development, Snaps and its underlying tech continues to be worked on as an alternative to Flatpak, and Ubuntu continues to dominate the cloud landscape.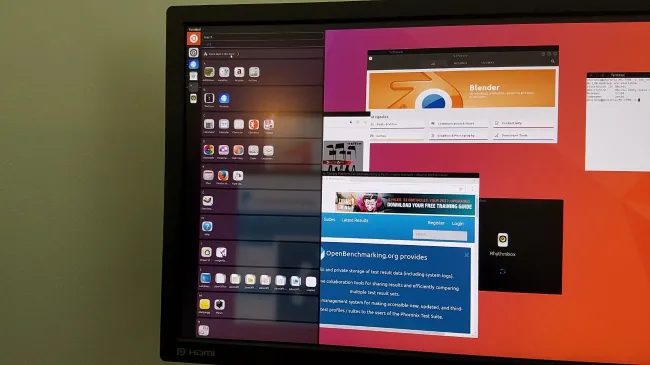 The now-dead Unity 8 desktop on Mir.
Of our 200+ Ubuntu articles on Phoronix in 2017, here's a look at the most-viewed Ubuntu stories for reliving some of the most popular and also polarizing moments this year.
Ubuntu To Abandon Unity 8, Switch Back To GNOME
Canonical has announced via Mark Shuttleworth they are ending their development of the Unity 8 desktop environment and will be switching back to GNOME desktop by Ubuntu 18.04.
Trying AMDGPU-PRO 17.10 On Ubuntu 17.04
In early April AMD released the AMDGPU-PRO 17.10 driver as their first hybrid proprietary driver update in some time. With this update came support for Ubuntu 16.04.2 (and also 16.10, unofficially) but to little surprise it doesn't work out-of-the-box with this week's Ubuntu 17.04 release. But it can be made to work.
Mark Shuttleworth Makes More Comments On Ubuntu GNOME, Mir, Convergence
By now you have probably read Mark Shutttleworth's Google+ comments from Friday concerning Ubuntu GNOME, including the continuing of Snaps, UBports looking to take over Unity 8, and the desire to move quickly in supporting Ubuntu GNOME. He has now provided more follow-up comments.
AMDGPU-PRO 17.10 Released With Ubuntu 16.04.2 Support
AMD has released the AMDGPU-PRO 17.10 hybrid Linux graphics driver.
Ubuntu 16.04.2 LTS Released; Ubuntu 17.04 In Feature Freeze
Last Thursday Ubuntu 16.04.2 LTS was delayed by a few more days with thinking it would be released this past Monday while now it's been officially released. Ubuntu 17.04 meanwhile is entering a feature freeze.
Mark Shuttleworth Reportedly Returning To Role As Canonical CEO
There's a big meeting going on today at Canonical regarding changes being made at the company. This follows the dramatic news this week of Ubuntu dropping Unity 8 and switching back to GNOME Shell. There's now information obtained that Mark is planning to reprise the role of CEO.
Former Compiz Developer: Free Software Desktop Might Enter A Dark Age
With the big shake-up this week at Canonical resulting in abandoning Unity and switching back to GNOME, former Compiz developer and Canonical employee Sam Spilsbury has shared a retrospective on his years of working on Compiz and Unity for Ubuntu.
Clear Linux vs. Ubuntu On An Intel Pentium CPU
When we are usually running our cross-distribution/OS Linux comparisons, we are generally using Intel Xeon or Core i5/i7 CPUs and whatever else is the latest and greatest hardware, since that's what excites us the most. But a Phoronix Premium member recently inquired whether Intel's performance-oriented Clear Linux distribution would also be of benefit on lower-end hardware. So for some benchmarking fun this weekend, here are some Ubuntu 16.10 vs. Clear Linux results on an older Pentium system.
Ubuntu 17.10 Temporarily Pulled Due To A BIOS Corrupting Problem
Canonical has temporarily pulled the download links for Ubuntu 17.10 "Artful Aardvark" from the Ubuntu website due to ongoing reports of some laptops finding their BIOS corrupted after installing this latest Ubuntu release. The issue is appearing most frequently with Lenovo laptops but there are also reports of issues with other laptop vendors as well.
Unity 7 Hoping To Become An Official Flavor For Ubuntu 18.04 LTS
While Canonical abandoned their work on the Unity desktop environment in favor of the Unity-inspired customized GNOME Shell that debuted in Ubuntu 17.10, some within the community have remained interested in maintaining Unity 7 and even getting it into an official spin/flavor of Ubuntu.
Ubuntu 17.10 Final Beta Is Ready For Testing
Overnight the final beta of Ubuntu 17.10 "Artful Aardvark" was released for Ubuntu proper and its derivative friends.
Some In The Ubuntu Community Want To Fork, Maintain Unity 8
Following yesterday's news of Canonical dropping work on Unity 8 and Ubuntu Phone and switching back to GNOME as their desktop environment, some community developers are determined to keep the projects going.
With SHA1 Proven Unsafe, Ubuntu's Mir Switches From SHA1 To SHA256
Now that Google has proven SHA1 as unsafe, Ubuntu's Mir display server developers were quick to abandon its usage in favor of SHA256.
Ubuntu 16.04.2 LTS Struck By A Last-Minute Delay
Ubuntu 16.04.2 LTS was already twice delayed for different technical reasons. Approaching one month late from the original time table, 16.04.2 was supposed to ship today but that will no longer happen.
Should Ubuntu Have Gone With KDE Instead Of GNOME?
With last week's surprise decision by Mark Shuttleworth to abandon Unity 8 efforts and switch back to the GNOME desktop by Ubuntu 18.04 LTS, while some applauded the decision, others begged the question why not switch to KDE or "Ubuntu should default to [your favorite DE]."
Ubuntu 17.10 Is Artful
According to Launchpad, it looks like we finally have the codename for the successor to the Zesty Zapus.
Ubuntu 17.10 Begins Transition To GNOME Shell Desktop By Default
Those downloading the very latest Ubuntu desktop ISO of 17.10 "Artful Aardvark" for testing will find that it now boots to the GNOME Shell desktop and also provides an option for running GNOME on Wayland.
Ubuntu 17.10 Continues Refining Its GNOME Shell Theme
Will Cooke of Canonical is out with another weekly update on the latest happenings for the Ubuntu 17.10 desktop as the "Artful Aardvark" release continues getting closer.
Trying Out The New Installer Of Ubuntu Server
Ubuntu developers today have announced a "tech preview" of their new text-based installer for Ubuntu Server.
Ubuntu GNOME Will No Longer Be A Separate Flavor
Ubuntu GNOME 17.04 was released today alongside the other Ubuntu 17.04 flavors, but for those wondering what's happening to Ubuntu GNOME now that Ubuntu 18.04 will use GNOME with Unity being dropped, the Ubuntu GNOME flavor is winding down.