We Rely On Your Support: If you would like to support Phoronix this holiday season, you can enjoy our Black Friday / Thanksgiving sale... Phoronix Premium is available at a discounted rate for the rest of November. Learn more with the The 2020 US Thanksgiving / Black Friday Phoronix Premium Special. Happy Holidays!
Checking Out Ubuntu 18.04's Minimal Desktop Install Option
Besides
the Ubuntu 18.04 minimal spin
that is around to 30MB compressed, the Ubuntu 18.04 "Bionic Beaver" installer recently added an option for a "minimal installation" from the desktop Live DVD/USB environment. Here's a look at what that means for desktop users.
The minimal installation option from the Ubuntu 18.04 Ubiquity installer isn't to be confused with the lightweight Ubuntu minimal spin for containers and building your Ubuntu stack from scratch. Rather, the desktop minimal installation is advertised as only installing "a minimal desktop environment with a browser and utilities."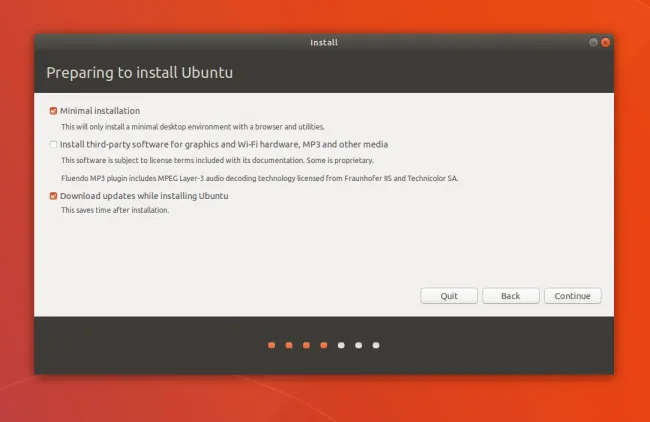 I decided to try that from today's Ubuntu 18.04 Bionic daily installation media to compare to an otherwise stock installation.
Above is a look at the freshly installed Ubuntu minimal desktop. It's still powered by GNOME Shell and looks much the same as a stock Ubuntu 18.04 environment. Though with the icons on the left side you lose LibreOffice being installed by default as well as Rhythmbox. But the Ubuntu Amazon icon does remain in the minimal install. Firefox, Nautilus, Ubuntu Software, and Help remain.
Default above, minimal install below.
Above is a look at more of the applications dropped from carrying out a minimal Ubuntu desktop installation.
As far as the savings go, the stock Ubuntu 18.04 LTS daily installation today occupied 5.8GB on disk installed while the minimal install after wiping the disk came in at 5.4GB... So roughly 400MB in savings for the current form of this "minimal" desktop option. With the sizes of modern storage devices, the savings aren't all that great, but this minimal option may appease those wanting a slightly less bloated desktop with less package updates to worry about, less clutter in GNOME Shell, etc.