We Rely On Your Support: If you would like to support Phoronix this autumn during these challenging times, you can enjoy our "Oktoberfest" sale... Phoronix Premium is available at a discounted rate for the rest of September. Learn more with the the 2021 Oktoberfest special.
Some Linux Game Developers Don't Even Have Contacts At AMD
It's sad right now that we're going through a time where
many new Linux game releases only work with NVIDIA graphics
and flat out fail with AMD's Catalyst driver. While
AMD is known to deliver game fixes several months late
, making matters worse, it seems some game developers don't even know who to contact at AMD about Linux driver issues.
A Phoronix reader pointed out
this comment
from a developer at TopWare Interactive, a video game developer/publisher in Germany that's been around since the 90's and has worked on many titles. In answering gamer questions about the Raven's Cry game that has a Linux port, the developer commented, "unfortunatly, we are not in touch with the AMD Linux team and even have no contact."
Their current AMD Linux problem is that the game launches and it's simply a black screen when using Catalyst. NVIDIA's driver, meanwhile, renders the game flawlessly on Linux.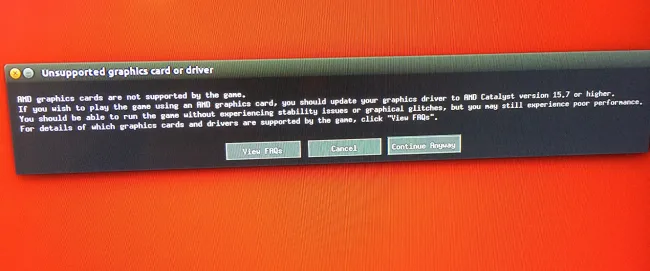 A common sight for AMD Linux gamers playing the latest SteamOS/Linux titles on Steam.
Under Windows, the game has a system requirement of a GeForce GTX 460 or Radeon HD 5000 series graphics card. While AMD has their whole Gaming Evolved program on Windows and other initiatives for ensuring a good AMD Windows gaming experience, they sadly have no such programs on Linux, or based on these comments likely no dedicated staff for Linux game developer relations. Even when problems are reported by the community, it still tends to take several months for issues to get resolved. Heck, it took a year for Counter-Strike: Global Offensive to have an AMD Catalyst application/game profile.