We Rely On Your Support: Did you know that the hundreds of articles written on Phoronix each month are mostly authored by one individual working insane hours? Phoronix.com doesn't have a whole news room with unlimited resources and relies upon people reading our content without blocking ads and alternatively by people subscribing to Phoronix Premium for our ad-free service with other extra features. You can also consider a tip via PayPal.
SuperTux Sees Its First Stable Release In A Decade
2005 was the last year SuperTux saw a stable release, but arriving this weekend just in time for Christmas is SuperTux v0.4.
The SuperTux game engine has seen a near-complete rewrite that now uses OpenGL, OpenAL, SDL2, and other modern technologies. The SuperTux 0.4.0 game is now able to handle translations, an in-game manager for downloading add-omns, new maps / in-game content, improved sound effects, new graphics effects, many new game objects, and a range of other improvements.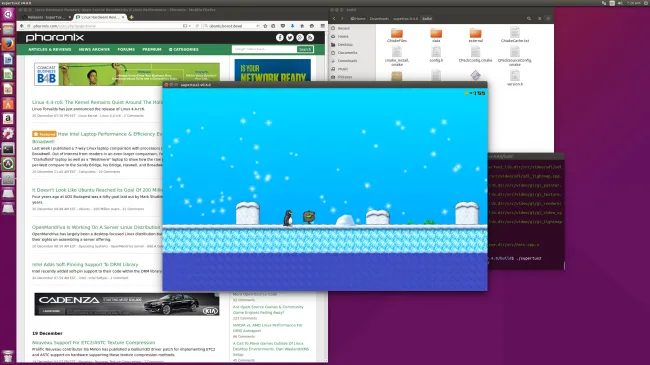 For those that don't know, SuperTux is inspired by Nintendo's Super Mario but features Tux rather than Mario. Likewise, if looking for another open-source game this holiday for kids, there is also
SuperTuxKart
if racing is more your thing.
More details on SuperTux 0.4 can be found via
the project's GitHub
.