2015 Was A Stellar Year For Linux Gaming
This year was a stellar year for Linux gaming with seeing hundreds of new native game releases and more.
Over the course of the past 12 months there were more than 700 Steam Linux games released: I haven't been able to find an exact count, but simply put it was just this past March that
there were 1,000 Steam Linux games
while as of writing this article today there are more than 1,750 titles.
2015 also saw the release of SteamOS 2.0 Brewmaster, the debut of Steam Machines, and a number of high profile Linux game releases like
GRID Autosport
,
DiRT Showdown
,
Shadow of Mordor
, and many others. The open-source Linux graphics drivers also improved a lot this year and allow for more games to run without the binary blob drivers thanks to the ongoing OpenGL 4 enablement.
While
open-source games/engines haven't been as vibrant
as the scene once was, the commercial space is going well even though the overall Steam Linux market-share still hovers at just around 1%.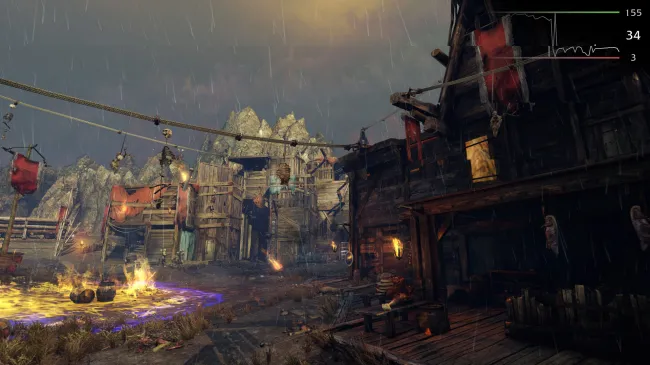 Below is a look at the most viewed Linux gaming news on Phoronix for 2015 of the 250+ stories published this year on Phoronix about Linux games.
C4 Engine Drops Linux Support, Calls It "Frankenstein OS"
Version 4.2 of the cross-platform C4 Game Engine was released today. The big change of C4 Engine 4.2 is that it gets rid of Linux support after its lead developer has had a very unhappy and difficult experience with Linux.
Steam's First Linux-Exclusive Launch Title Is Out
In the comments to this morning's article about the Steam Linux survey numbers for last month it was pointed out that as of last week there is a Linux-exclusive title currently on Steam.
Open-Source Doom 3 Spin Updated With Many New Features
While many initially looked at ioDoom3 as the exciting fork of id Software's id Tech 4 / Doom 3 source-code as it was done by some of the same folks as ioquake3, there sadly hasn't been much to report on in recent times for the project. Fortunately, the independent "dhewm3" is making strides as an open-source Doom 3 project.
Valve Is Giving Out Their Steam Linux Games To Mesa Developers
Last year Valve made all of their games free to Debian developers as a thank you since SteamOS is based on Debian. Now Valve is giving out their collection of all current and future games to open-source Mesa developers.
SuperTux Sees Its First Stable Release In A Decade
2005 was the last year SuperTux saw a stable release, but arriving this weekend just in time for Christmas is SuperTux v0.4.
There's Now More Than 1,000 Games On Steam For Linux
There's now more than one thousand native games available via Steam for Linux / SteamOS.
Steam Linux Usage Drops Below 1%
While we didn't expect any big gains for the Linux gaming market-share over the past month, it does come as a surprise there's a significant drop.
Valve Launches SteamOS Sale, Confirms A Lot Of New Linux Games
Making GDC2015 week even more exciting for Linux gamers on top of the Source 2 Engine, the Steam Link streaming device, and Steam Machines shipping this year is a big SteamOS game sale via Steam. This sale is selling not only existing Linux/SteamOS game ports but also several AAA games being ported to Linux.
Steam On Linux Crosses 1,400 Games
As of today there are now 1,400 games listed on Steam that have compatibility for Linux / SteamOS.
Game Developer Who Ported To Linux: "I Don't Think It Was Worthwhile"
An RPG game developer behind the Pillars of Eternity title mentioned during PAX Prime this weekend that it really wasn't worthwhile porting their game to Linux.
Our most popular featured articles relating to Linux gaming were:
22-Way Comparison Of NVIDIA & AMD Graphics Cards On SteamOS For Steam Linux Gaming
With Steam Machines set to begin shipping next month and SteamOS beginning to interest more gamers as an alternative to Windows for building a living room gaming PC, in this article I've carried out a twenty-two graphics card comparison with various NVIDIA GeForce and AMD Radeon GPUs while testing them on the Debian Linux-based SteamOS 2.0 "Brewmaster" operating system using a variety of Steam Linux games.
Shadow of Mordor Performance: Windows 10 vs. Ubuntu Linux
Last week Middle-earth: Shadow of Mordor was released for Linux after this AAA game premiered for Windows last year. Following its release I ran some Shadow of Mordor Linux benchmarks (and part two). Today are results on the same system when comparing the performance of this game under Ubuntu 15.04 to that of Windows 10 x64 Pro.
Unreal Engine 4 Linux Tests With AMD & NVIDIA Graphics Drivers
This week there was a 22-way graphics card test of Metro Redux on Linux using GeForce and Radeon hardware with the latest AMD and NVIDIA proprietary drivers. Today the newest Linux gaming test candidate to look at is the AMD/NVIDIA Linux performance with the latest Unreal Engine 4 demos. In this article is a look at the UE4 Linux performance on AMD and NVIDIA graphics hardware running with Ubuntu.
BioShock Infinite Is The Latest Game Showing Why Linux Gamers Choose NVIDIA
This week's release of BioShock Infinite for Linux reinforces the common recommendation by Linux game developers that those seeking the best support and performance should use the proprietary NVIDIA graphics driver. Here's an initial look at the BioShock Infinite performance on Ubuntu between AMD and NVIDIA graphics.
How To Make CS:GO Run Much Faster On AMD Catalyst For Linux
Should you be using a Radeon graphics card with the AMD Catalyst Linux driver and are disappointed by the poor performance, there is a very easy workaround for gaining much better performance under Linux... In some cases a simple tweak will yield around 40% better performance!
How Open-Source Allowed Valve To Implement VULKAN Much Faster On The Source 2 Engine
While Linux users tend to prefer open-source hardware drivers out of philosophical beliefs or just making an easier out-of-the-box Linux experience, Valve and other early Vulkan stakeholders have yet another reason to appreciate open-source drivers as it allowed them to jump-start porting of the Source 2 Engine over to the new graphics API much faster and easier than if they were relying on a closed-source Vulkan driver. Here's the story that LunarG has exclusively shared with Phoronix about their process of bringing up Vulkan with open-source.
Is SteamOS Any Faster Than Ubuntu 15.10 Linux?
Over the past few days have been a number of SteamOS Linux gaming benchmarks, namely published so far are the 22-Way Comparison Of NVIDIA & AMD Graphics Cards On SteamOS For Steam Linux Gaming and 4K AMD/NVIDIA High-End GPU Comparison On SteamOS Linux. When seeing all of those SteamOS results, you may have started wondering: is SteamOS any faster/slower than say Ubuntu Linux? In this article are some benchmarks comparing SteamOS to Ubuntu 15.10.
22-Way AMD+NVIDIA Graphics Card Tests With Metro Redux On Steam For Linux
A few days back I wrote about being able to finally get the Metro Redux game benchmarks running in an automated manner under Linux to the point that we're now able to test it with the Phoronix Test Suite. With Metro 2033 Redux and Metro Last Light Redux now running well for our testing purposes, I've carried out performance tests of these two games with twenty-two AMD Radeon and NVIDIA GeForce graphics cards on Linux. Besides looking at the normal FPS result there's also frame latency metrics, power consumption data for each of these graphics cards, performance-per-Watt metrics, and GPU thermal results. If you're wondering what graphics card works best for your needs for OpenGL 4.x Linux gaming, here's an interesting look with the Metro Redux titles that premiered on Steam for Linux back in December.
4K AMD/NVIDIA High-End GPU Comparison On SteamOS Linux
Continuing on from Friday's article that was a 22-way comparison of AMD and NVIDIA graphics cards on SteamOS for Steam Linux gaming, which tested the hardware at the common TV resolution of 1080p, here are results for the higher-end Radeon and GeForce graphics cards at 4K.
14-Way AMD vs. NVIDIA Linux Gaming Performance For DiRT Showdown
Yesterday marked the release of DiRT Showdown for Linux as ported over by Virtual Programming using their eON technology. With being able to use it as an automated, reproducible benchmark, I spent most of the day and into the night working on some initial AMD Radeon vs. NVIDIA GeForce graphics card benchmarks using this DiRT game that's finally available to Linux/SteamOS gamers, three years after it was released for Windows. This initial comparison is a 14-way Linux gaming graphics card comparison.