See How Your Linux System Compares To A $300 Broadwell-EP CPU That Lacks Turbo Boost
As I wrote about a few days ago, I'm in the process of my first
Broadwell-EP Linux build
and for it I had purchased the Xeon E5-2609 v4, a CPU that costs just $300 USD and has eight physical cores while a combined TDP of just 85 Watts, but it lacks Turbo Boost and clocks up to just 1.7GHz. But how does it perform?
I'm still working on my proper Linux review/benchmark expose of the Intel Xeon E5-2609 v4 compared to other CPUs and expect to have that published in the next few days with comparison to other Haswell through Skylake hardware. But for those curious about the performance, this weekend I uploaded some standalone performance benchmark figures for this Broadwell-EP system to OpenBenchmarking.org.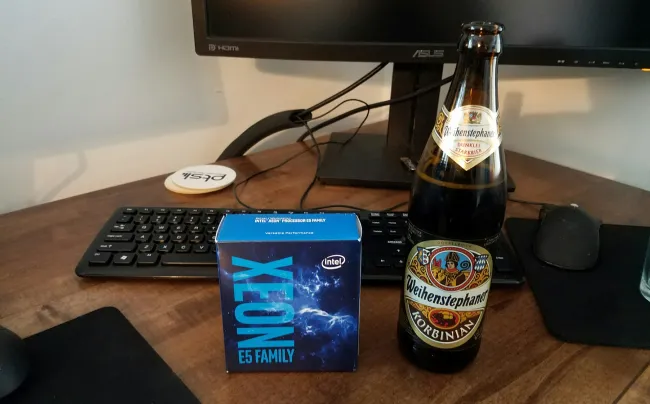 The benefits of weekend benchmarking when it's all fully-automated and streamlined via the Phoronix Test Suite... ;)
1608277-LO-INTELXEON01
- Some quick standalone results for the Xeon E5-2609 v5 paired with the new MSI X99A WORKSTATION motherboard running Ubuntu 16.04 LTS and upgraded to Linux 4.8. So if you want to see how your Linux system(s) compare to this $300 Broadwell-EP system, simply install the
Phoronix Test Suite
and run
phoronix-test-suite benchmark 1608277-LO-INTELXEON01
. It's that easy with our fully-automated, open-source benchmarking software!
1608286-LO-UBUNTUONB52
- More than 60+ benchmarks on this same system. Check out those results for those especially curious about this LGA-2011 v3 CPU and/or if you have a lot of time to run a side-by-side comparison against your own system.
Have fun running your own Linux benchmarks this weekend while waiting for my full write-up including performance-per-Watt metrics and more.