Making More Storage For The Benchmarking Room & More
As a lot of people have been interested in the routine, casual weekend updates to the evolution of the
turning a basement into a Linux benchmarking server room
, here's the latest.
The last update two weekends ago was about
beginning to tile the basement server room
in
hopes of helping to further cool the server room
during the summer months and the side benefit of being able to mop the floor for cleaning.
Since that last update, I haven't made any more progress on the tiling due to being short on time and also the weather the past few weekends has been back below freezing, which doesn't make for fun times using the water saw outdoors for tile cutting.
But I did finally find the time and save up for the small costs of adding more storage to the server room.
The side storage room that I didn't touch last year when building out the basement server room finally received some basic treatment with a waterproofing coat on the foundation, wood paneling for the walls, and some cabinets -- some factory cabinets and then a few shelves I built. This is also the area where I started the tiling for first testing its durability prior to finishing the tiling throughout.
Or what it looked like one year ago:
So now that room looks like:
With just spending a few hours on it, this turned out pretty well for adding much more effective storage for other Phoronix test hardware, etc.
The white waterproofing on the foundation is Behr Premium's Basement and Masonry Waterproofer, which along with putting in new wood paneling made the room much nicer. I also put in an extra vent in the room for opening during the summer months for more cool air from the air conditioner.
Much more storage and useful room than before. Building some extra built-in shelves also kept costs down while making them out of three quarter inch MDF ensures they're very durable and can take the load of heavy computer equipment.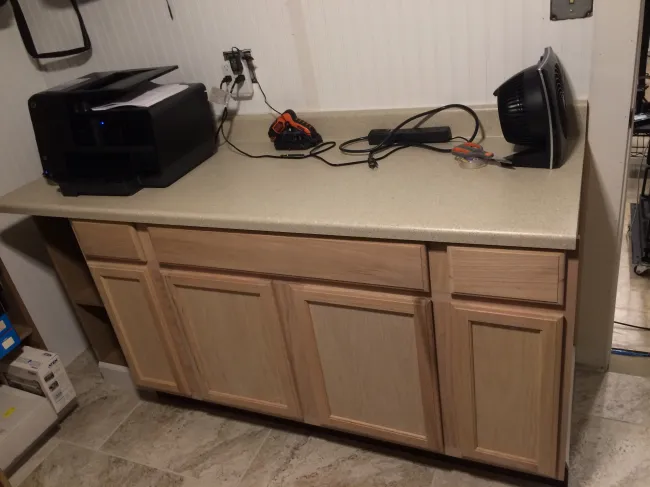 There's also room now for building new systems in here.
The tiling is working out well and according to
this Android thermal imager
there is a noticeable difference in temperature compared to the current flooring in the server area.
The area is wife-approved as well.
There is also room for two of the
Sandusky metal storage cabinets
.
I continue to recommend these metal storage cabinets as they are quite durable and you can
find them at Amazon.com
.
If anyone thinks of any other ways to make this computer storage room more efficient, feel free to post in the forums.
Next update likely in a few weeks when being able to do some thorough cleaning and the tiling of the floor in the server area.