I've Happily Switched Away From The Current All-In-One Water Coolers
As I've written about a few times now, I've been working towards eliminating the all-in-one water cooling setups from our Linux benchmarking lab since the performance of these aging water cooling loops hasn't been too incredible and they've been blocking me from migrating the last of my systems in ATX cases over to 4U enclosures. This weekend I finally phased out the last two water cooling systems in favor of well-performing ~$20 USD heatsinks.
Last month I wrote more about this in
Switching From Water To Air Cooling With Some Linux Benchmarking Systems
. Over this past weekend, the two final systems I had in ATX cases -- a Core i7 5960X Haswell-E rig and AMD FX-8370 system -- with their basic AIO water coolers were transitioned to air cooling so they would fit nicely within the
Rosewill 4U cases
I've been using most often these days in the basement server room.
The heatsinks I went with were the Arctic Cooling Freezer i11 for the Intel system and Arctic Cooling A11 for the AMD system.
I've been running many of these heatsinks in different systems to great success and especially like them for being lower cost than other after-market heatsinks while
still being able to handle ~150 Watt CPUs and the HSF can fit within a 4U chassis
with many after-market coolers unfortunately not being able to easily fit within the 4U height requirement.
Similar to the results in my last article, the i7-5960X and FX-8370 systems are now happily running on air and within their new 4U chassis homes. The cooling performance is comparable to the old AIO water coolers; I know the AMD-branded one was manufactured by Cooler Master while the Intel one was from Asetek. I had kept running with these systems for a while since having the AIO water coolers and SilverStone cases free as review samples while saving for the extra funds for the heatsinks and moving the remainder of the cases to 4U cases for better directed airflow, convenience, and easier to clean and maintain.
Fortunately, everything is now migrated except for some small micro-ATX cases that for the time being can sit on server rack shelves.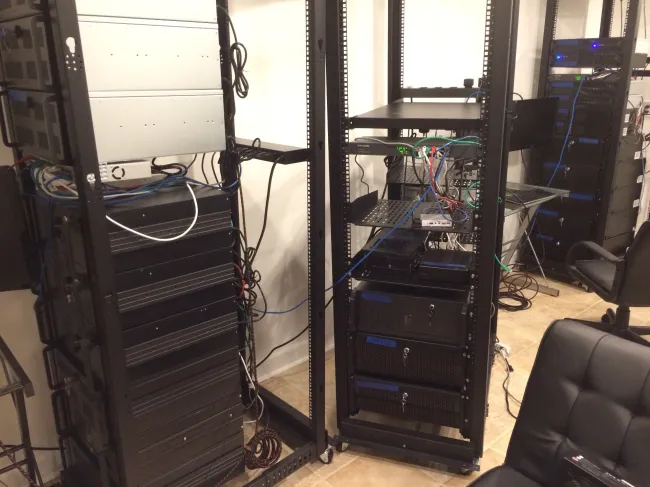 The
Arctic Freezer A11
is currently selling for $23 USD while the
Arctic Freezer i11
went up in price recently to $29 USD.