We Rely On Your Support: Did you know that the hundreds of articles written on Phoronix each month are mostly authored by one individual working insane hours? Phoronix.com doesn't have a whole news room with unlimited resources and relies upon people reading our content without blocking ads and alternatively by people subscribing to Phoronix Premium for our ad-free service with other extra features. You can also consider a tip via PayPal.
Radeon R600 Gallium3D Driver Nearly At OpenGL 4.5, Remaining Bits Being Finished
It didn't happen in time for the upcoming
Mesa 18.0
, but the R600 Gallium3D driver for supporting pre-GCN AMD Radeon graphics processors is now nearly at OpenGL 4.5 compliance! A needed OpenGL 4.4 extension is now scratched off the list completing the necessary extensions to effectively have GL 4.5, assuming it can pass the conformance test suite.
This evening David Airlie of Red Hat, one of the few remaining developers interested in ongoing R600g feature improvements, posted a set of patches enabling ARB_query_buffer_object support. ARB_query_buffer_object provides statistics on the operation of the OpenGL pipeline, but more exciting for end-users is that this was the final GL 4.4/4.5 extension needed for R600g besides any remaining tweaks for KHR_robustness.
Wiring in ARB_query_buffer_object for R600g comes after David Airlie has been spending a fair chunk of January on
various
improvements
to this driver that supports Radeon HD 2000 through HD 6000 series hardware.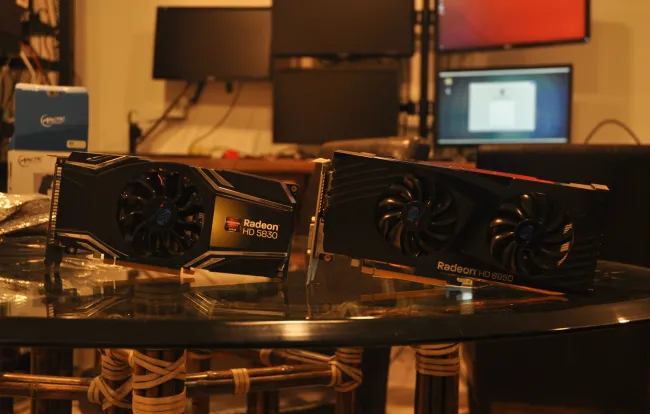 Two of the vintage Radeon GPUs nearly at OpenGL 4.5 compliance now thanks to open-source...
But before getting too excited, this nearly complete OpenGL 4.5 support isn't for all pre-GCN (HD 7000 series) hardware. At the moment OpenGL 4.x with R600g is only advertised for Radeon HD 5800 and HD 6900 series graphics cards. Other hardware at the moment is limited to OpenGL 3.3 due to not having ARB_gpu_shader_fp64 support. There is
ongoing work for "soft" FP64 support
that would then allow these other vintage Radeon GPUs to enter the OpenGL 4.x world, but nothing is merged at the moment.
With today's query buffer object
patches
, David Airlie noted, "
I'm not going to enable GL4.5, as we haven't got CTS coverage yet, but this is one of the last bits towards GL4.5 on cayman.
" The remaining changes for getting a passing grade on the conformance test suite are mostly bug fixing.
Hopefully this support will be merged and all in order with an OpenGL Conformance Test Suite passing in time for next quarter's Mesa 18.1 release, just over one year after OpenGL 4.5 was reached for the newer RadeonSI Gallium3D driver.