RFC: Revised System Information View For PTS-Ringsaker
One of the smaller improvements I've been working to make on Phoronix Test Suite 7.0-Ringsaker has been improving the system information reporting view.
When running
phoronix-test-suite system-info
for getting the information directly or shown by default whenever getting ready to run a benchmark, I've been working to improve that presentation of the relevant system software/hardware details.
Here is where it's currently is at with the new view and then the old information on the right:
The new view is more structured and organized compared to the original system-info display (which has been the same since Phoronix Test Suite v0.1, albeit with more information reported over time) and also shows more details by default that previously were only shown if running
phoronix-test-suite detailed-system-info
or looking at a completed result file.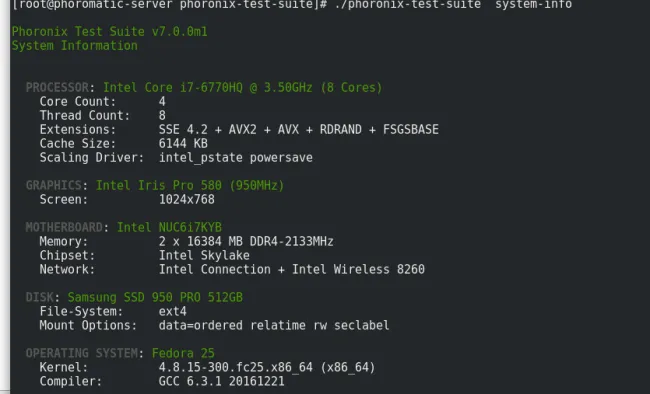 But basically looking for any feedback if any PTS users have any other ideas for better presenting of this information or other data to be included in this display by default (while of course keeping in mind that it can be different on systems and limitations such as PTS being only able to read information like system RAM details when running as root, due to Linux limits).
Anyhow, this is one of the minor improvements you can see with
Phoronix Test Suite 7.0
and is currently available via Git. Feel free to share any feedback or requests in the comments.