We Rely On Your Support: Did you know that the hundreds of articles written on Phoronix each month are mostly authored by one individual working insane hours? Phoronix.com doesn't have a whole news room with unlimited resources and relies upon people reading our content without blocking ads and alternatively by people subscribing to Phoronix Premium for our ad-free service with other extra features. You can also consider a tip via PayPal.
Fedora 17 Has A Tasty Codename: Beefy Miracle
Last week Mark Shuttleworth announced
Ubuntu 12.04 LTS
would be codenamed
Precise Pangolin
while this evening Red Hat's Jared Smith has announced the codename for
Fedora 17
, which will be released around the same time next spring.
Fedora 17 is codenamed a
Beefy Miracle
. Yes, that's really the codename. The "Beefy Miracle" name was
originally proposed for Fedora 16
, but the "Verne" codename beat it out for that cycle. A faction of Fedora users even created
BeefyMiracle.org
to campaign for this codename. It's now finally happening with Fedora 17.
Jared Smith announced the results
on the Fedora mailing list
. There were 1182 votes for Beefy Miracle, 1035 votes for Liege, 881 for Never, and 791 for Gernsback.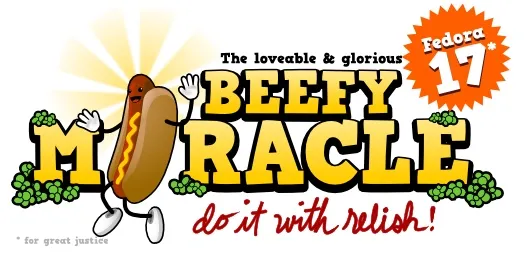 Linux users seem to be quite carniverous. Ubuntu codenames are about animals while Red Hat now has a beefy miracle with Fedora 17 and previously
they really liked Bacon
.