We Rely On Your Support: This site is primarily supported by advertisements.

Ads are what have allowed this site to be maintained for the past 16 years.

We do our best to ensure only clean, relevant ads are shown, when any nasty ads are detected, we work to remove them ASAP. If you would like to view the site without ads while still supporting our work, please consider our ad-free Phoronix Premium. You can also consider a tip via PayPal.
Phoronix Test Suite 3.4-Lillesand Officially Released
Phoronix Test Suite 3.4-Lillesand has been officially released this morning, which is a major update to our open-source benchmarking software and framework.
Key features of Phoronix Test Suite 3.4 include
the MATISK benchmarking module
for context-driven tests, improved Phodevi hardware/software device recognition support, graphing improvements (including
new visualizations
), continued
OpenBenchmarking.org
integration enhancements, mobile enhancements, and initial support for the GNU Hurd operating system. There's also some less noticeable changes as talked about in
past development release announcements
.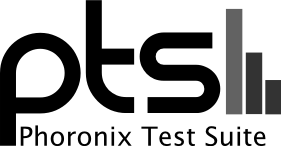 Stop by
Phoronix-Test-Suite.com
to download the latest release, also swing by
OpenBenchmarking.org
. There aren't any known regressions compared to Phoronix Test Suite 3.2-Grimstad nor are there any fundamental changes, so it should be ready to roll-out in the enterprise.
Below is the official change-log for all Lillesand releases to date.
Phoronix Test Suite 3.4.0-Lillesand
8 September 2011
- pts-core: Download the SHA1 package hash for test profiles/suites when fetching the test itself rather than using repo index
- pts-core: Don't produce an error when open_basedir is in use by the PHP binary running the Phoronix Test Suite
- pts-core: Fix compacting of large multi-way comparisons for compacted systems table view
- system_monitor: Don't log negative values
- pts_Graph: Fix key length detection for the heat-map bar graph
Phoronix Test Suite 3.4 Milestone 3
31 August 2011
- pts-core: Support pts_compression library using the old ZIP API when ZipArchive is not present
- pts-core: Support calling external unzip command if ZIP / ZipArchive API calls fail
- pts-core: Add upload-test-profile command to upload user test profiles to their OpenBenchmarking.org account
- pts-core: Add upload-test-suite command to upload user test suites to their OpenBenchmarking.org account
- pts-core: When running a newer version of the Phoronix Test Suite then last time, update the OpenBenchmarking index cache
- pts-core: Add openbenchmarking-repositories command to list basic information about linked OpenBenchmarking.org repos
- pts-core: Support for reading the estimated run-time of test profiles from OpenBenchmarking.org repo indexes
- pts-core: Support more of the non-SVG graph types within the PTS Results Viewer
- pts-core: Report hardware/software information before running any test
- phodevi: Improve CPU core detection; fixes detection for some ARM devices like HP TouchPad
- phodevi: Improve disk storage detection for mobile devices
- phodevi: Use thermal_zone0 as system temperature if it's not claimed by anything else
- phodevi: Improve memory capacity detection
- toggle-screensaver: Support toggling the GNOME 3.x screensaver using GSettings
- bilde_renderer: Improve detection of web browsers that support SVG and those that need to fall back to PNG
- bilde_renderer: Rewrite the fake ->draw_dashed_line() function to be more efficient and accurate
- bilde_renderer: Improve the PNG back-end to render more closely to SVG back-end
- pts_Graph: Add new system table to use on featured comparisons
- pts_Graph: Introduce new horizontal box plot graph for line graphs where there's too many lines
Phoronix Test Suite 3.4 Milestone 2
15 August 2011
- pts-core: Result parser fix that caused the parser to properly detect the results in some scenarios
- pts-core: Dynamically build all static lists into a new PT2SO temp file
- pts-core: Various code cleaning
- phodevi: Various code cleaning
- phodevi: Support finding Linux PCI audio devices
- phodevi: Report network adapters to system hardware area
- phodevi: Report virtualization platform to system layer field
- phodevi: Improved file-system detection for niche file-systems
- documentation: Take greater advantage of the information that can now be automatically pulled from pts-core
Phoronix Test Suite 3.4 Milestone 1
19 July 2011
- pts-core: Various code clean-ups
- pts-core: Add numeric check to the results parser on bar graphs
- pts-core: Report valid module user commands when querying a module via module-info
- pts-core: Fix SKIP_TESTS handling
- pts_Graph: Various tweaks
- pts_Graph: Introduce radar / spider overview graph
- matisk: Commit initial module
- documentation: Report valid module user commands to the HTML / PDF documentation
- phodevi: Initial support for GNU Hurd operating system (tested on latest Debian GNU Hurd Wheezy snapshot)