We Rely On Your Support: This site is primarily supported by advertisements.

Ads are what have allowed this site to be maintained for the past 15 years.

We do our best to ensure only clean, relevant ads are shown, when any nasty ads are detected, we work to remove them ASAP. If you would like to view the site without ads while still supporting our work, please consider our ad-free Phoronix Premium. You can also consider a tip via PayPal.
Open-Source Web-Sites, Memories Of The Past
The
forum discussion
surrounding
TransGaming's GameTree Linux and Cedega Technology
continues, with some Linux gamers regretting that they ever even supported TransGaming. One user also brings up the past from when -- back in 2000~2001 -- TransGaming had pledged to open up their code-base once they reached 20,000 subscribers. They believed in an open-source philosophy at that time, but they never ended up opening up their code once hitting that milestone. Even though Cedega as we know it is now dead, this former fork of the X11-licensed Wine is still closed.
Another Phoronix reader had pulled up the Wayback Machine to show that TransGaming had in fact made that statement. Here's TransGaming's message from 2001 (on
the Wayback Machine
), "TransGaming's subscription services will be available in early 2001. For just $5 a month, subscribers will be able to directly support our work on Wine and will be able to vote on which games we should work on next. We want you to be a full participant in the development process, not just an innocent bystander! Once 20,000 subscribers are signed up, TransGaming will release all its current code under the Wine license. In many ways, TransGaming subscription model is an economic experiment in novel mechanisms for funding Open Source projects. For more insight, please have a look at our Open Source Philosophy. If you are interested in subscribing, please fill out our Survey, and we'll get back to you when our code is ready for widespread public consumption."
After checking out the old TransGaming web-site, I spent a few minutes reminiscing over other Linux and open-source web-site memories from the past. Here were a few of the Wayback Machine stops, for some light Sunday entertainment. Here was Ubuntu's web-site back in 2004.
And the good old days of pure-German, pre-Novell SuSE. Even
back in 2000
they had a fairly decent web-site for the time.
There was also the good days of Mandrake
back around 2002
. Mandrake was one of the first Linux distributions I had used regularly.
Red Hat was also a very different beast more than a decade ago.
And
GNU.org
back in 1999...
Or
XFree86.org
back in 1999. The X.Org site today isn't
that
different from its predecessor more than a decade later.
There's also
GNOME.org
from back in days of GNOME 1.4, Miguel de Icaza fending off GNOME attacks, etc.
So here's also
KDE.org
. Back in 2000 it was still asking if Unix is ready for the desktop.
For laughs there's also the Phoronix web-site from back in 2004 when I had founded the online destination with less of a pure Linux focus at the initial launch, after formerly being an editor of a Windows hardware review web-site. Fun fact: What Linux distribution was featured in the very first Phoronix review? Knoppix.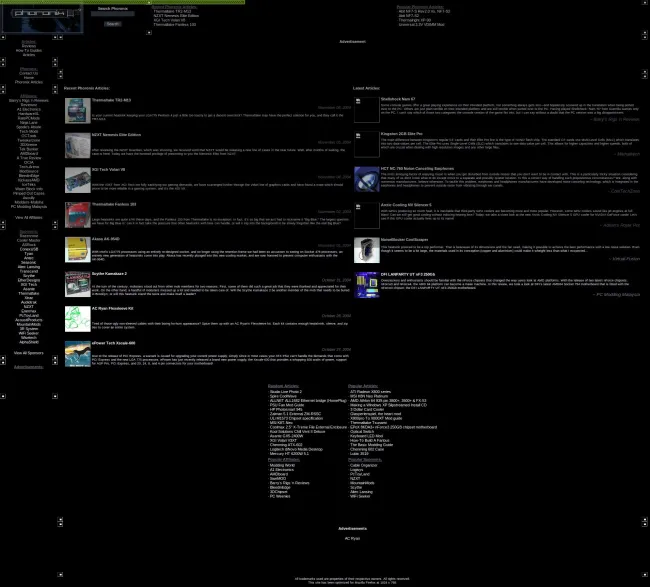 Or the very first Phoronix layout in June of 2004 when it was more of a prominent hardware review and discovery engine, with that later being moved off to
Cekora.com
. The IP from the Cekora Engine then folded earlier this year into
OpenBenchmarking.org
for part of its global review discovery, vendor/product recognition, and product search areas.
What are your favorite open-source web-sites or memories from the past? Share with us in the forums.