We Rely On Your Support: If you would like to support Phoronix this autumn during these challenging times, you can enjoy our "Oktoberfest" sale... Phoronix Premium is available at a discounted rate for the rest of September. Learn more with the the 2021 Oktoberfest special.
Unigine Betters Its Terrain Capabilities
While Unigine Corp has been busy finishing up their first in-house game,
OilRush
, they haven't stopped work on further refining their upstream game engine. Unigine Corp has just reported on some of the most recent advancements to the Unigine Engine, which includes many enhancements and an updated terrain system.
The updated terrain system now has a built-in terrain editor (now integrated into the Unigine Editor) and supports height-map streaming, holes, texture splatting, tri-planar texturing, automatic texture streaming, and a maximum terrain size of 65536+1 x 65536+1. Unigine and its terrain capabilities would make a flight simulator (like
X-Plane 9
) look really interesting.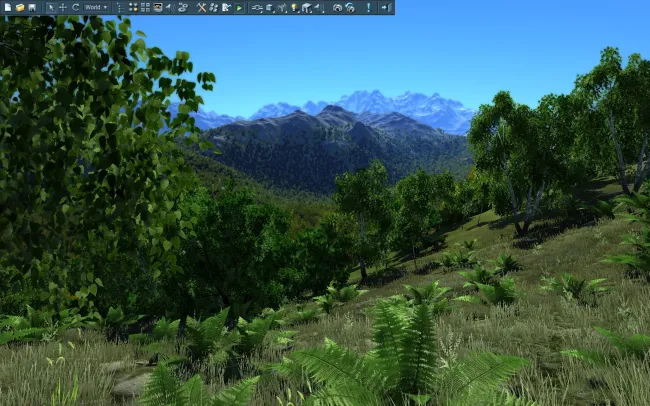 Aside from the Unigine terrain work, there's now time-based filtration of contacts in physics, safe multi-threaded collisions with terrain, support of texture atlas for particles, dropping of clip-map support, reduced memory consumption of UnigineScript, improved UnigineScript performance, support for physical ropes, and various other fixes.
While the OilRush game may not take too much advantage of this new terrain work since it's already at the end of development and is centered around an oil rig in the middle of an ocean, it will likely be of benefit to
Primal Carnage
(another
game coming to Linux
) and other Unigine titles. We'll hopefully also see a new Unigine tech demo taking advantage of the latest engine advancements and its OpenGL 3/4 renderer in the not too distant future, even though
Unigine Heaven is already very impressive
and
demanding on your computer requirements
.
Meanwhile, Unigine OilRush
will have a native Linux client
and will be launched alongside the Windows version in the fourth quarter of this year. The new terrain details were shared on their
development log
.