We Rely On Your Support: If you would like to support Phoronix this autumn during these challenging times, you can enjoy our "Oktoberfest" sale... Phoronix Premium is available at a discounted rate for the rest of September. Learn more with the the 2021 Oktoberfest special.
Celebrating A Year Of Open-Source ATI
This week marks the one year anniversary since AMD had announced its
open-source strategy
and in two weeks will mark the anniversary of the
xf86-video-radeonhd code release
that contained R500 and
R600 mode-setting support
, but not much more. Celebrating this one year milestone was a celebration with Luc Verhaegen, Jerome Glisse, and Egbert Eich during
XDS 2008
at the
The Bad Ass
pub in Edinburgh, Scotland.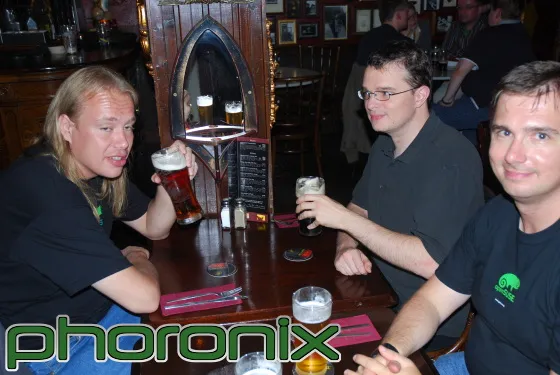 Discussed at this four-person celebration was the current progress of the open-source ATI as well as DRM hacking for open-source CrossFire (though a laugh at this point), performance counters, the RadeonHD driver, and a whole lot more.