We Rely On Your Support: If you would like to support Phoronix this autumn during these challenging times, you can enjoy our "Oktoberfest" sale... Phoronix Premium is available at a discounted rate for the rest of September. Learn more with the the 2021 Oktoberfest special.
Russian Super-Computing Users Get Tired Of Catalyst, Start Looking At Open-Source AMD
Super-computing researchers part of the Institute of System Research for the Russian Academy of Sciences recently presented on using the open-source Radeon driver for OpenCL.
While inquiring this morning about some fresh Radeon OpenCL benchmarks on Phoronix, one of the researchers shared their slide-deck from a presentation they did in November that included some initial results. Their slide covers the "AMD OpenCL and Catalyst Linux driver curse" but they consider "a new hope with Mesa OpenCL."
They feel AMD is weak in the high-performance computing (HPC) space over "lack of high quality working software development model and system software" and "lack of application development libraries." But there's newfound hope with AMD's more open-source nature and moving toward their unified AMDGPU driver approach.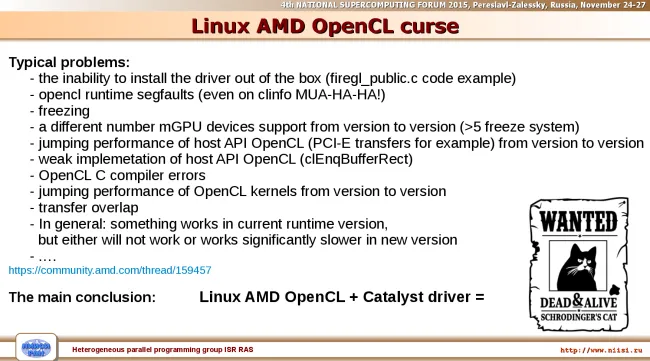 This presentation at Russia's 4th National SuperComputing Forum listed among the "Linux AMD OpenCL curse" issues as the inability to easily install their drivers, runtime segmentation faults, freezing, weak OpenCL implementation, OpenCL C compiler errors, and regressions / changes in behavior between driver versions. It's got to the point they feel the Catalyst driver has become "impossible to operate."
They are looking "as soon as possible" to move off Catalyst and switch to AMDGPU while desiring Hawaii support. They are also hoping that Mesa OpenCL will improve with this open-source implementation having all of the features of AMD's proprietary OpenCL runtime.
OpenCL benchmarks carried out by the organization show that the Catalyst Linux driver with the "clpeak" test is 4% to 58% faster than the current Mesa stack. With an OpenCL FFT Radix7 benchmark, the Catalyst driver is 40% to 237% faster than Mesa.
More details can be found via
their PDF slide deck
.