More AMDGPU & Radeon Benchmarks Of Linux 4.5 With Mesa 11.2 Git
This week I've already delivered a number of AMDGPU/Radeon benchmarks from the in-development
Linux 4.5 kernel
now that there's AMDGPU PowerPlay and other improvements. With the week not being over, here are some more AMD Radeon graphics card benchmarks from Linux 4.5 while also using Mesa 11.2-devel Git with LLVM SVN.
For your viewing pleasure this weekend are some more benchmarks I ran on the Linux 4.5 + Mesa 11.2-devel configuration on Ubuntu 15.10 with the Padoka PPA and
my custom kernel spin
.
First up are
some more AMDGPU benchmark results
at 4K with a Radeon HD 7950, R7 260X, R9 285, R290, and R7 370. The R9 Fury was left out this round since
its performance is still messed up
.
You can see these benchmark results
over on the new OpenBenchmarking.org
. If you want to see how your own Linux system's 4K graphics performance is, simply install the
Phoronix Test Suite
and run
phoronix-test-suite benchmark 1601309-GA-AMDGPULIN16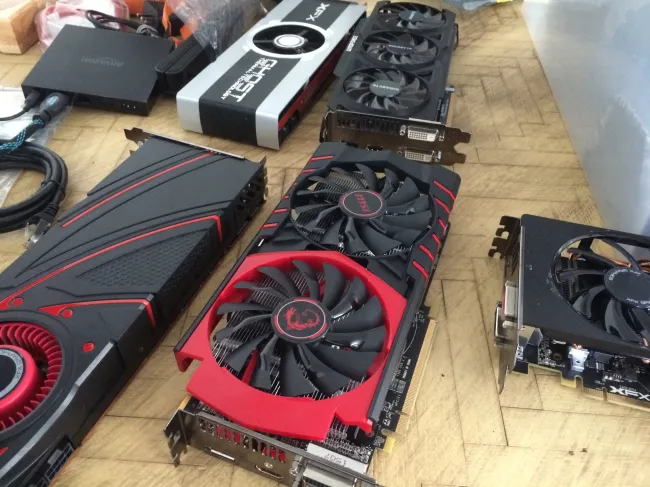 From this same driver stack / system I also ran some pre-GCN graphics card benchmarks with the R600 Gallium3D driver. The tests there included the Radeon HD 5830, HD 6770, HD 6870. and HD 6950.
Go view all those Radeon HD 5000/6000 seires benchmark results at 1080p via
this OpenBenchmarking.org result file
. You can see how your own system compares by running
phoronix-test-suite benchmark 1601301-GA-R600GALLI42
.
Hope you enjoy
the new OpenBenchmarking.org public beta
and if you run into any issues with the new site, be sure to let me know!