We Rely On Your Support: If you would like to support Phoronix this autumn during these challenging times, you can enjoy our "Oktoberfest" sale... Phoronix Premium is available at a discounted rate for the rest of September. Learn more with the the 2021 Oktoberfest special.
Fedora 22 Will Likely Make Apps In The Software Center Have AppData
If your packaged Fedora application is to be included in Fedora 22's "Software Center", it almost certainly is going to need to be supplying AppData.
At the start of this year I wrote about the push for
requiring Fedora 22 applications to provide AppData
, a meta-data specification for providing basic data about the program. AppData is a GNOME-backed specification based on a subset of the AppStream meta-data proposal. An AppData file comes down to an XML file that specifies the basic program information like the license, name, and descriptions of the program. Screenshots of the program can also be specified via URLs.
Richard Hughes, of PackageKit/ColorHug fame, is proposing that it be made mandatory that AppData files be supplied for applications shown in the Software Center, the GNOME-based "GNOME Software" program for easily installing new applications from the desktop GUI.
At the moment only around half of the packaged software does ship AppData. However, he's not looking for 100% coverage as for lower quality applications he's not too concerned about and it could benefit the user from being overwhelmed with too many choices. Hughes noted in
his proposal
, "I'm going to propose that we only show applications in the software center in F22 when they have an AppData file. At the moment nearly 50% of applications in Fedora 21 ship AppData files, and the ones left over are not exactly the award winning ones, if you know what I mean."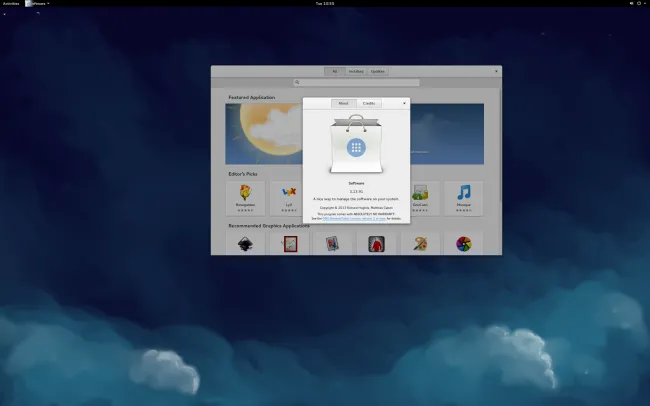 Application packages not shipping AppData would still be installable by DNF/Yum, but not be exposed through this GUI.
Of the programs lacking AppData in their Fedora packages now are many KDE components and even Emacs along with a few other notable packages, but for these common packages there's still many months to either get the AppData XML files upstream or the Fedora packages to be patched with their own AppData.
Fedora 22
will likely be released around mid-2015 and
could have DNF replace Yum
as another big packaging change.