Phoronix Test Suite 5.4 M4 Keeps Improving Phoromatic For Automatic Benchmarking
The latest development release of Phoronix Test Suite 5.4-Lipki is now available with the focus of this release cycle continuing to be on advancing the built-in, open-source Phoromatic Server for conducting routine, automated tests within organizations and building custom test farms, etc.
Phoronix Test Suite 5.4 Milestone 4 is the newest version with likely just a couple weeks left before the official Phoronix Test Suite 5.4.0 that offers the hugely improved version of the built-in Phoromatic Server. For those not up to speed on the 5.4 development, read my earlier
PTS "Lipki" articles
.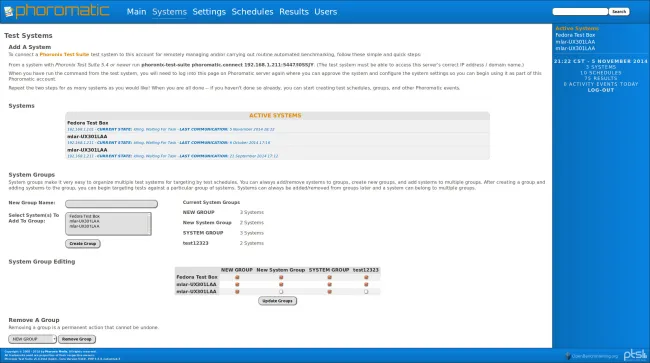 Besides continuing to enrich the Phoromatic Server portion of the Phoronix Test Suite, milestone four also boasts IBM POWER8 hardware detection improvements with Phodevi and various improvements to pts-core.
Here's a brief look at the milestone four changes since the M3 release in late October, but for a complete overview of changes stop by
the Phoronix-Test-Suite on GitHub
.
Phoronix Test Suite 5.4 Milestone 4
5 November 2014

- pts-core: Add 3840 x 2160 (4K UHD) to more of the mode-setting fall-back modes
- pts-core: Start working on support for using standard Linux file-system hierarchy when running as root as a service
- pts-core: Add PhoromaticStorage option to Phoronix Test Suite user configuration XML file
- phoromatic: Reporting of overall result counts for given test schedules
- phoromatic: Report benchmarking / test run errors to server
- phoromatic: Show system errors/warnings from the Phoromatic web UI
- phoromatic: Don't attempt to re-run test schedules on clients if they previously reported errors/warnings for that schedule / trigger ID combination
- phoromatic: Usernames need to be at least four characters long
- phoromatic: Add a schedule overview to the schedules page
- phoromatic: Add today's scheduled events to the side bar
- phoromatic: Improve result identifier / title reporting for results
- phoromatic: Implement "Power User" account level
- phoromatic: Add normalize results option to the phoromatic result page
- phoromatic: Support for jumping to test results page for XXX past days of test from schedule page
- phodevi: IBM POWER hardware detection improvements
Download the Phoronix Test Suite under the GPL license for OS X / Windows / Linux / BSD / Solaris operating systems at
Phoronix-Test-Suite.com
for carrying out open-source and fully automated benchmarks.