Systemd Development Skyrocketed This Year
Rising above all of the
systemd controversies and in-fighting this year
, systemd developers remained committed and did a heck of a job at adding code to the project.
As some complementary development statistics for systemd focused on 2014 to yesterday's
lead developers of systemd
article, I ran GitStats this morning on the latest end-of-year systemd mainline Git repository. The numbers speak for themselves and systemd grew significantly this year.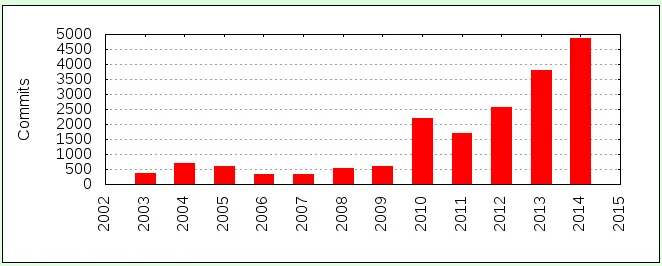 Systemd saw 4879 commits in 2014, or 28% more than in 2013 or 91% more than in 2012. With the nearly five thousand commits, 418451 lines of code were added and 203010 lines of code removed.
Lennart added a ton of new lines of code this year while other key players like Kay Sievers and Tom Gundersen were more flat in comparison. Lennart Poettering was the number one systemd author of the year with 1767 commits while other key contributors were Tom Gundersen, Zbigniew Jędrzejewski-Szmek, Kay Sievers, David Herrmann, and Thomas Hindoe Paaboel Andersen.
The year has ended with systemd at 719,348 lines of code.