Phoronix Test Suite 5.2-Khanino Is Nearly Ready
The fourth development milestone release of Phoronix Test Suite 5.2-Khanino is now available.
Phoronix Test Suite 5.2 is being prepared for release next week Thursday, 5 June, in celebration of
Phoronix.com turning ten years old
and it being six years since the Phoronix Test Suite 1.0 public debut.
Phoronix Test Suite 5.2 Milestone 4 is coming just one week after the last
Khanino
milestone but is packing a fair amount of changes:
- There's many graphing improvements. In particular,
box plot charts are used in some circumstances
for better visualizing the test data. The result overview graph has also been improved and various other graphing improvements.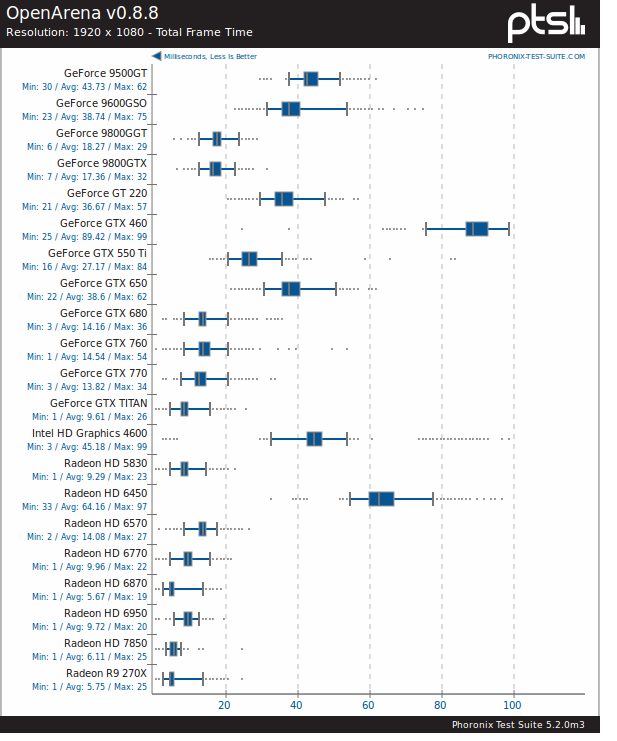 - The new
Phoromatic
code built into the Phoronix Test Suite code-base is getting into good shape for its premiere in the 5.2 release as an early tech preview / beta product. Read more in
PTS 5.2 M2: Build A New Test Farm In Minutes
and
a preview of the next-gen interface
.
- A new
auto-sort-result-file
sub-command.
- Various other minor improvements.
The latest release of our open-source, cross-platform automated benchmarking software can be found at
Phoronix-Test-Suite.com
. Any last minute patches, feedback, etc are welcome for ensuring 5.2-Khanino is in great shape.
Commercial support is available
and the Phoronix Test Suite benchmarking code is
hosted on GitHub
.