The Intel Core i7 5960X Continues Running Great On Linux
For those able to spend $1000+ (USD) on a processor, the
Intel Core i7 5960X
is a fantastic offering that is still leaving me pleased with the performance after extensive Linux testing.
After
the initial X99 motherboard failure
, everything has been working fine with a different motherboard. Aside from Legit Reviews' motherboard also failing, I haven't heard of any other X99 issues from others so it looks like it could be an isolated incident. However, the root cause still appears to have been undetermined. I'm still waiting for MSI on a direct update to the matter but over in Taiwan, MSI reportedly told one of my SilverStone contacts that the Raven RV05 fan is faulty and caused the problem (though the case/fan works fine with a different motherboard and SilverStone has received no reports of other Raven RV05 issues in the few months that the chassis has been on the market). I also heard that Kingston ended up lowering their DDR4 voltages on the memory kit that was supplied to Legit Reviews; their DDR4 kit is now rated for 1.35V instead of 1.5V. In regards to the ASUS X99 motherboard failure, I haven't heard anything new but just a rumor of a bad soldering job. Anyhow, it fortunately looks like no widespread problems but just some isolated incidents.
With the Gigabyte X99 motherboard,
everything is working great
. As shared in my
Core i7 5960X Haswell-E Linux review
, the performance of this eight-core processor is terrific especially for the many multi-threaded-friendly Linux workloads. Other recent articles of interest for the i7-5960X include the
Scythe Mugen MAX review
,
i7-5960X CPU core scaling under Linux
, and an
Intel P-State vs. ACPI CPUFreq scaling driver comparison
. I've also posted
GCC 5.0 compiler benchmarks on the i7-5960X
,
GCC vs. LLVM Clang compiler benchmarks
, etc.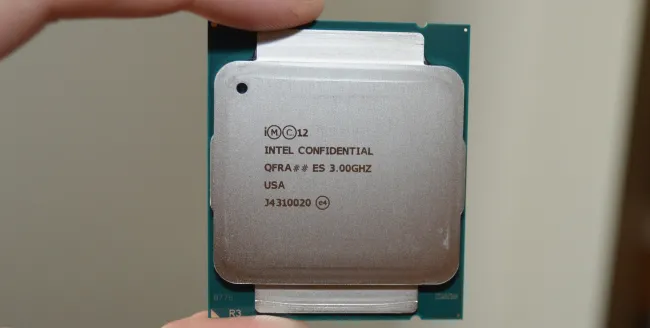 Coming up I still have plans for other Intel Core i7 Haswell-E tests like a Linux distribution comparison (Ubuntu 14.04 LTS, RHEL/CentOS 7.0, Debian, etc), a possible BSD vs. Linux performance comparison, more compiler tests, and whatever else comes up. If you have any test requests, let me know
in the forums
or
on Twitter
; if you're a
Phoronix Premium subscriber
I'll try especially hard to make your requests happen.
Thanks again to Intel for supplying Phoronix with the Intel Core i7 5960X and it's certainly an entertaining, high performance platform to keep our benchmarking fetish satisfied until Broadwell...